The S&P 500 is up 3.2% since last Thursday's close even though Fed Chair Jerome Powell's Jackson Hole speech on Friday was hawkish. Three sectors have outperformed the S&P 500, namely, Information Technology (4.7%), Consumer Discretionary (4.2%), and Communication Services (4.1%). These are the ones that are home to the MegaCap-8, which were boosted by the drop in the 10-year Treasury yield from 4.34% on August 21 to 4.11% today.
While stock prices didn't fall on Powell's speech, sentiment did turn more bearish, which is bullish from a contrarian perspective. The Investors Intelligence Bull/Bear Ratio fell to 2.07 this week from 3.07 four weeks ago (chart). The percentage of bulls fell from 57.1% to to 43.1% over this period. Many of those retreating bulls joined the correction camp rather than the bearish one.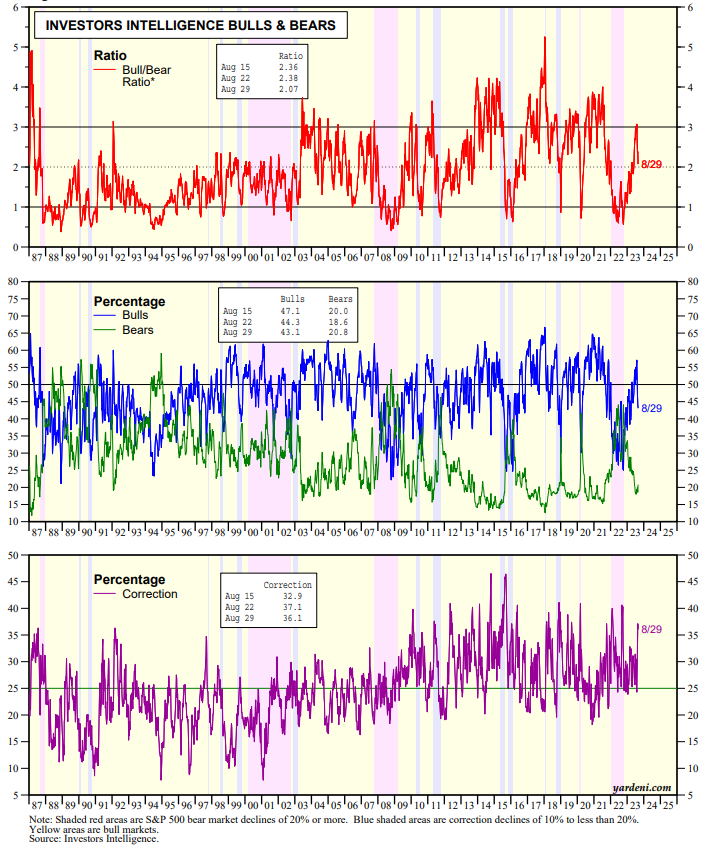 Also falling sharply just before Powell's speech on August 25 was the AAII Bull/Bear Ratio (chart). It was back under 1.00 at 0.90 during the August 23 week.