The March CPI report is likely to show that inflation remains high in the US, but is continuing to moderate. In February, the headline and core CPI inflation rates were 6.0% and 5.5% on a y/y basis.  Stock and bond prices should rally if the March numbers are lower by around 50bps. They would probably sink if the results are around 50bps higher. We are expecting the headline CPI inflation rate to fall to 3.5%-4.5% and the PCED headline inflation rate to fall to 3%-4% by the end of this year without an economy-wide recession
CPI goods inflation peaked last summer around 14.0%. It was down to 3.5% in February (chart). In other words, it has been transitory. CPI services inflation has been persistent rising to 7.6% during February.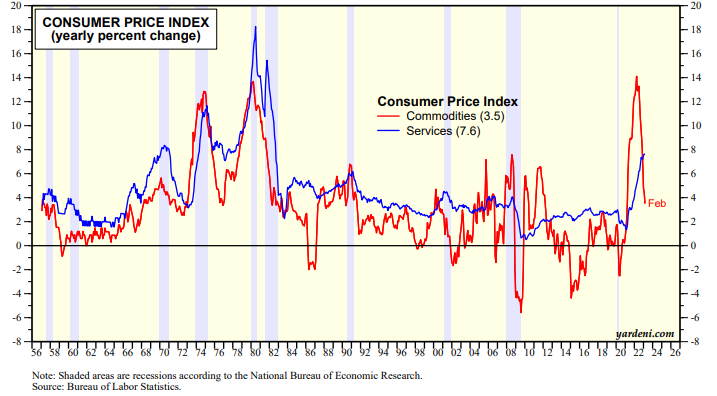 Rent inflation has been a major contributor to the surge in services inflation. CPI tenant rent rose 8.8% during February. It should moderate in coming months according to market-based measures of current rent inflation (chart).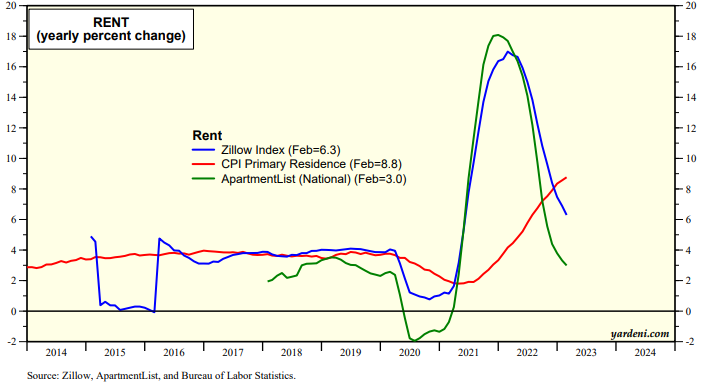 It's interesting to note that the CPI inflation rates in China and the US tracked each other quite closely prior to the pandemic (chart). They diverged significantly since then with the latter much higher than the former. China's CPI inflation rate peaked around 2.5% early last year, and fell to just 0.3% during March.