The S&P 500 has been remarkably quiet over the past couple of weeks just below its February 2 high and above both its 50-dma and 200-dma (chart). The earnings season started well with better-than-expected results from the major banks. Investors may be marking time waiting to see if Fed officials will proceed with the widely expected 25bps hike in the federal funds rate at the May 2-3 meeting of the FOMC. The key issue is will they announce that a pause is warranted given the banking crisis. We think so.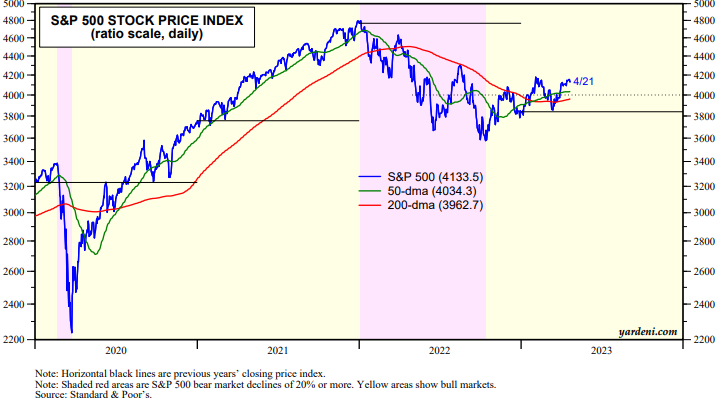 That would be bullish for stocks. On the other hand, the Treasury is running out of money faster than anticipated, bringing the debt ceiling crisis to a head sooner in June (chart). Federal tax receipts have been weaker than Treasury expected, while federal outlays have been rising again in recent months (chart).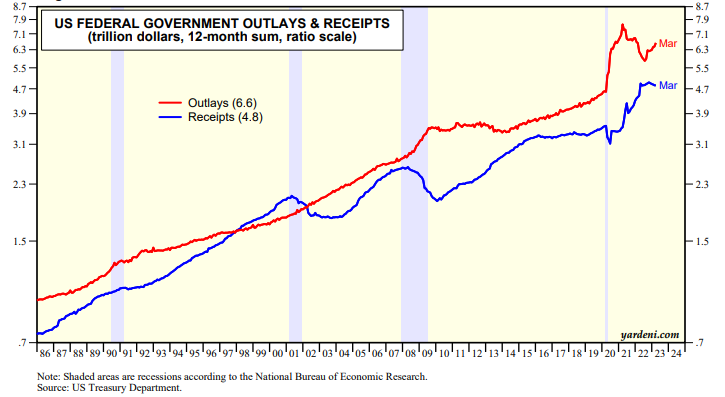 The S&P 500 VIX was down to 16.8 on Friday (chart). This series is highly correlated with the percent of bears, which was down to 24.0%, in the latest weekly Investors Intelligence survey. From a contrarian perspective, there may not be enough bears to drive the stock market higher for now. In addition, the looming debt ceiling crisis might boost bearishness more than a Fed pause might boost bullishness. That would be bullish from a contrarian perspective since the debt crisis will be resolved one way or another, which should allow stock prices to move higher this summer.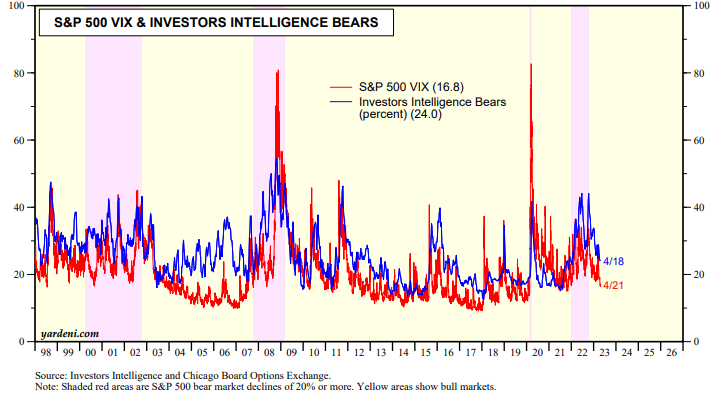 We asked Joe Feshbach for his opinion of the market from a trading perspective: "My view remains unchanged. The S&P 500 still has a chance of taking out its early February high, but the bulk of the market advance is behind us. Sentiment indicators showed a slight improvement, but not enough to indicate a meaningful advance is ahead of us. I believe the market will fall back into its recent wide trading range in the not to distant future. For those interested, the gold chart looks vulnerable to me short-term."