The S&P 500 is down 2.4% from its bull market high of 4588.96 on July 31 through Friday's close (chart). It ran into resistance at the top end of its bullish channel, which could take the index to 4400-5000 by the end of this year. We are sticking with 4600, suggesting that there isn't much upside for the rest of this year. However, it is still a bull market given our 5400 target for the end of 2024.
For now, the S&P 500 is likely to drop below its 50-dma and find support at its 200-dma, which is currently at the lower end of the bullish channel.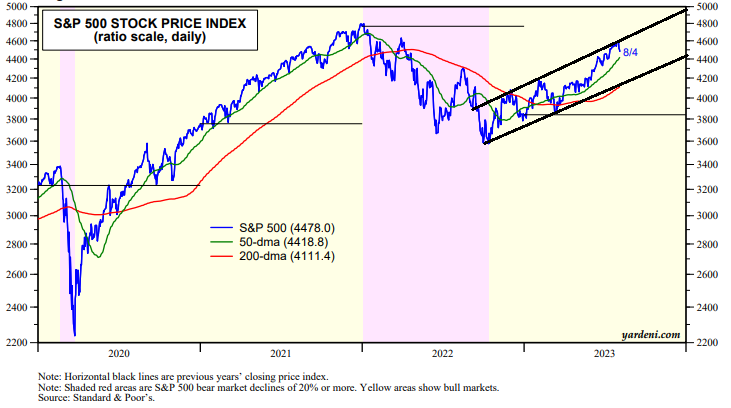 The stock market also ran into resistance provided by the bond market, as the 10-year yield rose above 4.00% last week. Bearishness is building up quickly in the bond market. Bill Ackman recently tweeted that he is short the 30-year Treasury "in size" with options. The first article posted in today's WSJ is titled, "Investors Bet That High Rates Will Linger."
The S&P 500's forward P/E tends to be inversely correlated with the bond yield. However, they've diverged since the spring (chart). A "4 handle" on the yield could be starting to weigh on the market's valuation multiple.