September is usually a nice month weather-wise. After the dog days of summer, the temperature starts to cool with occasional hot spells reminiscent of the summer. On the other hand, the month can be a rough one for stocks. The S&P 500 is down 1.3% mtd so far. That's not so bad. Then again, the month's worst performing sector is Information Technology, down 4.3% (table below). The S&P 500 has been hovering around its 50-day moving average for the past couple of weeks (chart).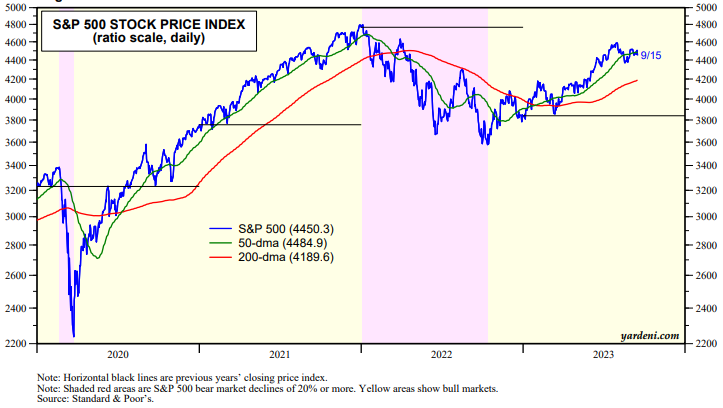 The stock market might continue to drift sideways for a few more weeks. There are lots of uncertainties. How long will the UAW strike last? Will there be a government shutdown at the end of the month? How much higher is the price of oil likely to go? Will the 10-year Treasury bond yield break out above 4.35%? If the Fed doesn't hike the federal funds rate next week, will Fed officials suggest that they might hike in November? Might their Dot Plot show that there may be fewer rate cuts next year than investors expect?
All these questions raise another question: Why isn't the stock market weaker? Here is a plausible answer: Over the past few weeks, industry analysts have been raising their S&P 500 operating earnings per share estimates for 2023, 2024, and 2025 (chart).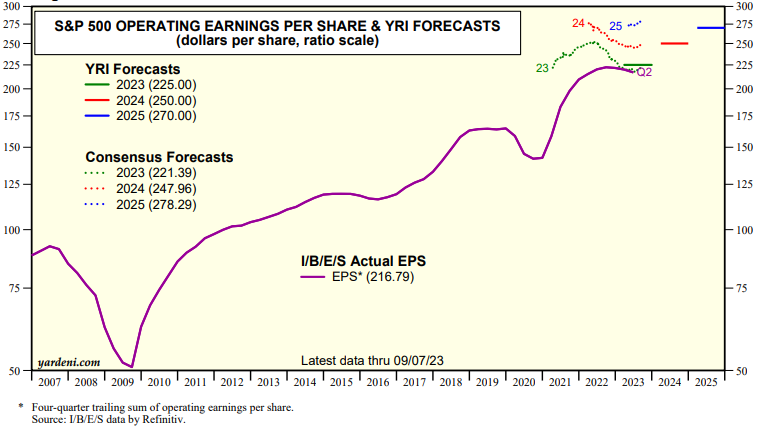 We asked our friend Joe Feshbach for his assessment of the market from a trading perspective: "On my previous update, I expressed caution about the performances of individual stock charts, especially on Nasdaq. That's where most of the exuberance has been, especially in the AI driven tech sector. So far the damage has been primarily in the over-extended tech sector. From the looks of the charts, the correction should still continue, with rallies tending to fall short in that area. However, the Put/Call Ratio is a little too high for anything terrible to happen to the market. So I'm assuming we're in a caution-justified range with a downward bias for the near term. I'd really like to see the concentrated percentage of the top tech S&P stocks come down a little more from its recent discomforting level." Thanks, Joe!