Sometimes it is better to own a small boat than a very large yacht. The former is cheaper to operate and easier to maneuver. The MegaCap-8 stocks won the S&P 500 regatta during the pandemic years of 2020 and 2021. They badly underperformed during 2022 once the pandemic abated. (The MegaCap-8 stocks are Alphabet, Amazon, Apple, Meta, Microsoft, Netflix, NVIDIA, and Tesla.) Consider the following:
(1) Market capitalization. The combined market capitalization of the MegaCap-8 peaked at a record high of $12.3 trillion on December 27, 2021. Their big losses occurred in 2022, when their combined market cap fell 41.4%, or $5.0 trillion to $7.1 trillion (chart). The S&P 500 market caps with and without the MegaCap-8 fell 20.4% and 13.6% during 2022.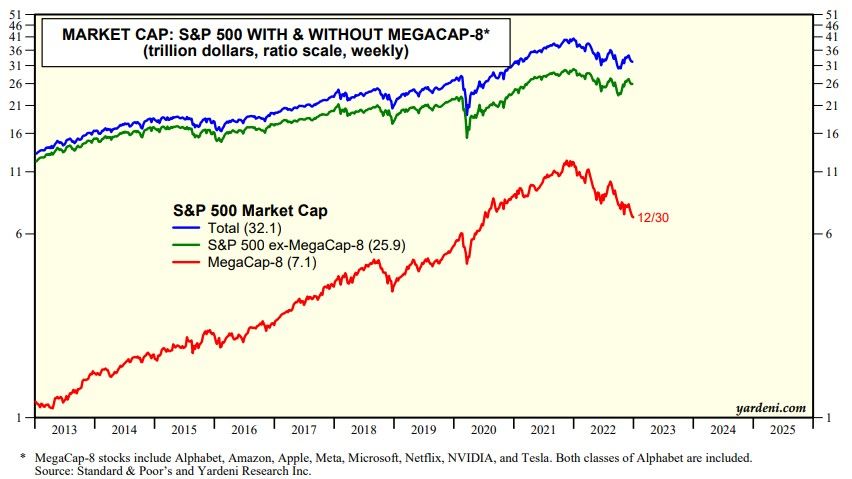 (2) Market share. The MegaCap-8 accounted for a record 26.4% of the S&P 500 during November 19, 2021 week (chart). That market cap share fell to 19.4% late last year. It was under 10% prior to mid-2016.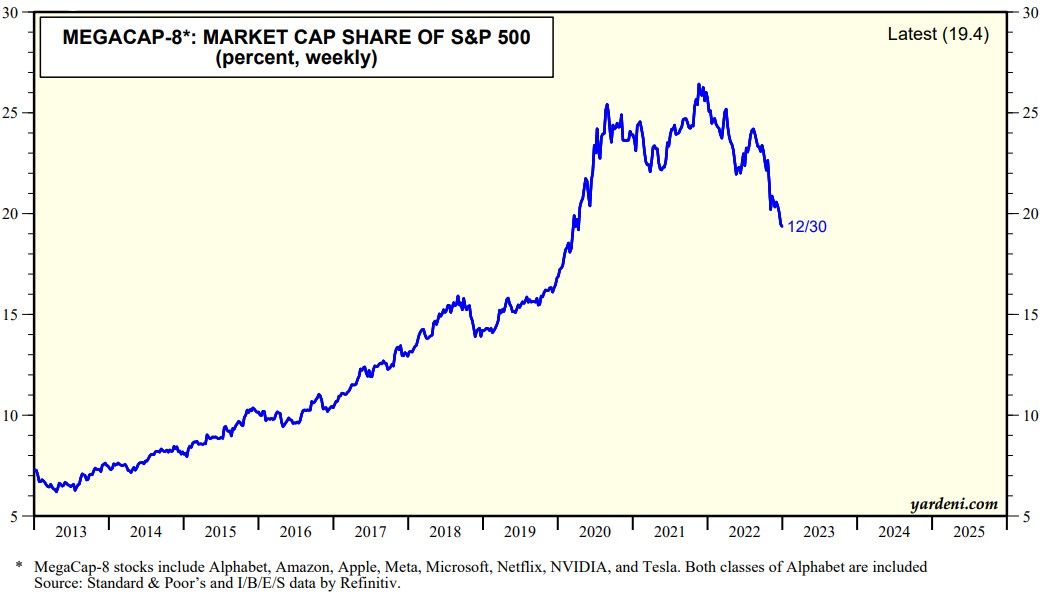 (3) Valuation. Collectively, the MegaCap-8 seemed to be the clear winners from the pandemic as reflected in their combined forward P/E which soared from 21.6 during March 20, 2020 to a record high of 38.5 during August of that same year (chart).
Each of the MegaCap-8 companies has had specific issues that weighed on their stock prices during 2022. They were especially vulnerable to the tightening of monetary policy which caused valuation multiples to fall. At the end of last year, their collective forward P/E was back down to 21.7. The forward P/Es of the S&P 500 with and without the MegaCap-8 are currently 17.1 and 16.1.