The headlines in the financial press today suggested that Q4's real GDP was strong. On closer inspection, it was relatively weak and consistent with our view that the economy has been in a "rolling recession" since early last year when the Fed started to tighten monetary policy.
Real GDP rose 2.9% (saar) following 3.2% during Q3 (chart). However, real final sales of domestic product rose only 1.4% during Q4 down from 4.5%.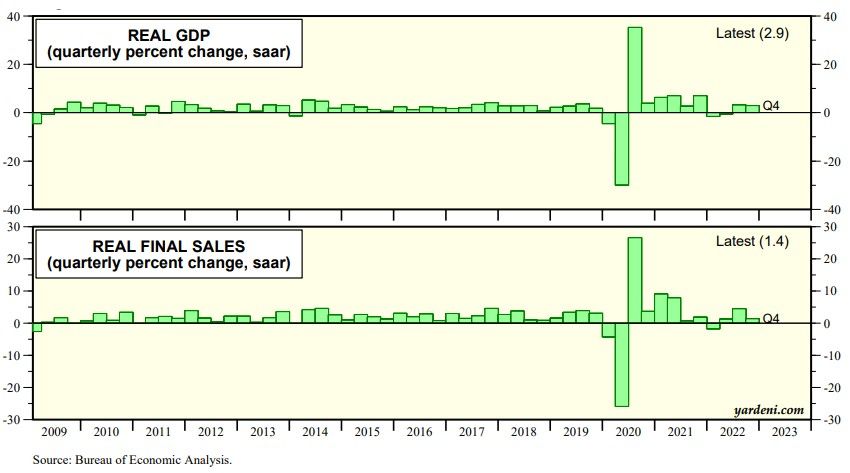 Real GDP's growth rate was boosted by a jump in inventory investment during Q4 compared to Q3 (chart). It's likely that some of that increase was unintended since demand for goods was weak last year.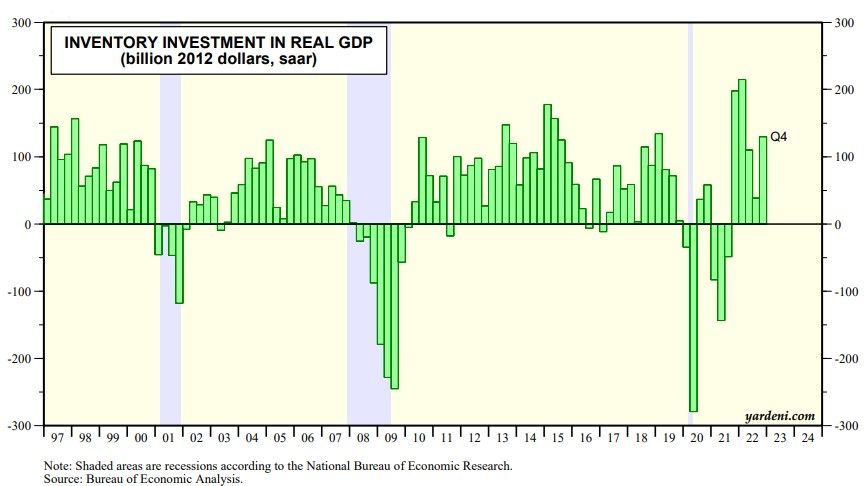 Many goods providers experienced boom times during 2020 and 2021 (chart). But their sales stalled and drifted downwards during 2022 when consumer spending pivoted away from goods to services.
Total consumer spending in real GDP rose 2.1% during Q4, down from 2.3% during Q3. Spending on services led the way with a 2.6% increase, while spending on goods rose 1.1%.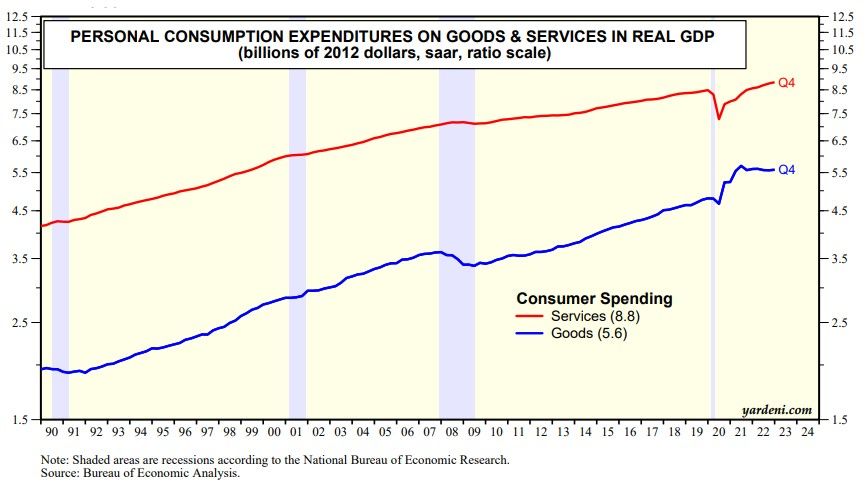 Last year, the rolling recession rolled mostly through the housing industry. Residential investment in real GDP fell 10.7% during 2022. It rolled through the retail industry last year as stores were forced to discount merchandise to reduce their bloated inventories. It is currently rolling through the technology industry which hired too many workers during the pandemic and is now letting some of them go.
By the way, the inflation news was good in this morning's GDP release: The price index for gross domestic purchases rose 3.2% (saar) versus 4.8% during Q3. The headline consumption deflator increased 3.2% versus 4.3%, while the core rate rose 3.9% down from 4.7%.