Industry analysts who cover the S&P 500 companies are responding to the current earnings reporting season for Q3-2022 by continuing to cut their earnings estimates  for Q4-2022 and all four quarters of next year  (charts below). They've been doing so through the last week of October when several of the MegaCap-8 reported disappointing earnings.
The 344 of the S&P 500 companies that have reported so far (through Wednesday) collectively has a y/y revenue gain of 10.7% but an earnings gain of only 5.1%, as higher costs are pressuring profit margins. Excluding Energy, S&P 500 revenue growth falls to 7.3% y/y from 10.7% and earnings growth drops to -2.9% from 5.1%.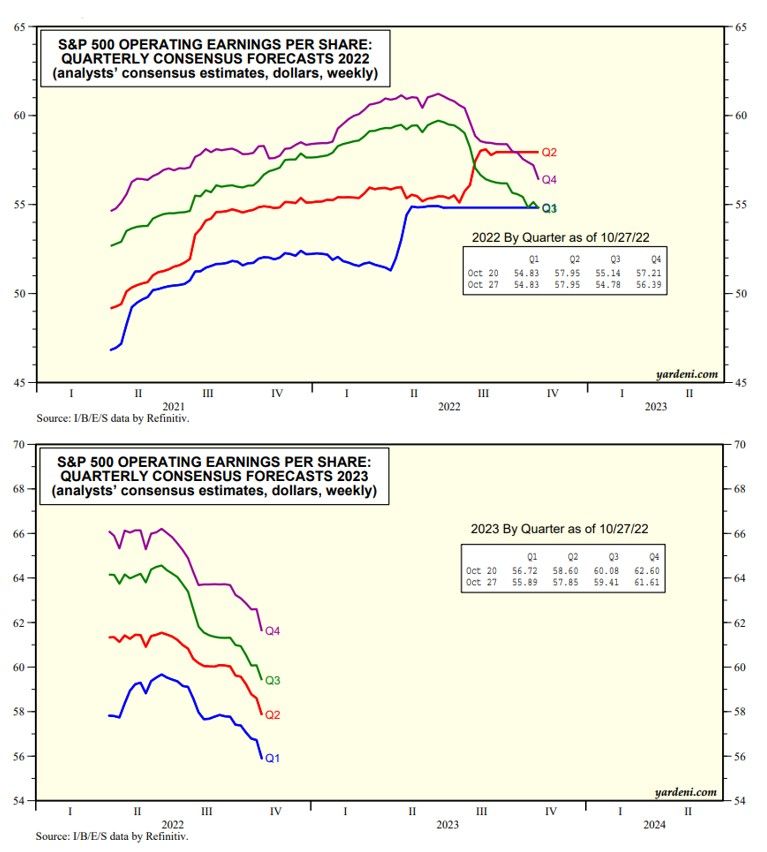 As a result, consensus annual estimates for S&P 500 earnings per share for 2022, 2023, and 2024 are also falling down to $221, $236, and $256 (chart). Forward earnings has dropped to $233.
The bears are projecting that forward earnings might fall to $200 (or lower) over the next 6-12 months in a hard landing scenario. That would put the S&P 500 at 3000 (or lower) if the forward P/E holds at 15.0. We are expecting forward earnings to flatten around the current level in a soft-landing scenario before resuming its climb during H2-2023. We assign a 60% probability to a soft landing and a 40% probability to a hard landing.