One of the bears' favorite charts shows the relationship between the S&P 500 and the size of the Fed's balance sheet. The former rose 609% from March 9, 2009 through January 3, 2022 (chart). Over this same period, the Fed's assets rose 1,005% from $760 billion in March 2009 to $8.4 trillion in January 2022. That was all wildly bullish for stocks and bonds.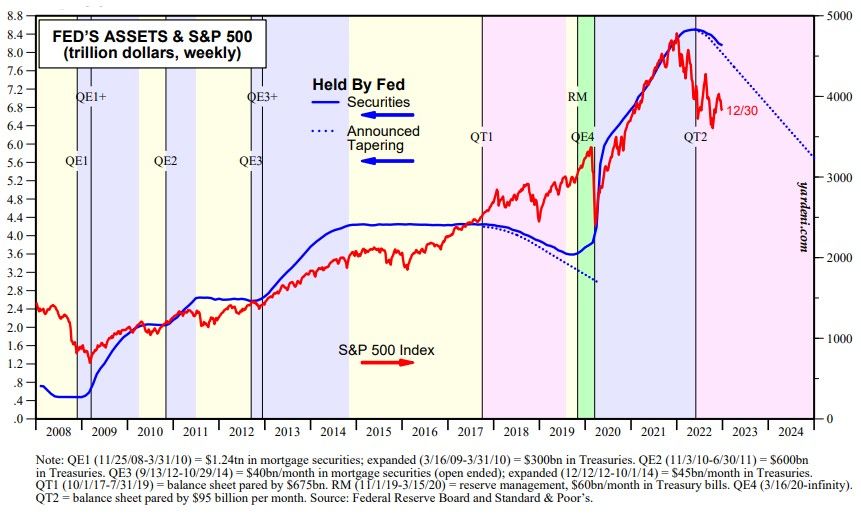 On January 5, 2022, the Fed released the minutesof its December 14-15, 2021 FOMC meeting. It included a long section titled "Discussion of Policy Normalization Considerations." It signaled that the Fed soon would respond to rising inflation by reducing the size of its balance sheet.
The Fed's quantitative tightening (QT) program began in June of last year and started accelerating in September. At the current runoff pace of $95 billion per month, the Fed's asset holdings would drop by $2.8 trillion from a record high of $8.5 trillion during May 2022 to $5.7 trillion by the end of 2024.
The bears reckon that QT of this magnitude will continue to send stock prices lower. They might be right. But keep in mind that the forward P/E of the S&P 500 has already dropped from 21.5 on January 3 of 2022 to 16.7 at the end of the year (chart). So the market already has discounted quite a bit of the Fed's pivot from accommodative to restrictive monetary policy.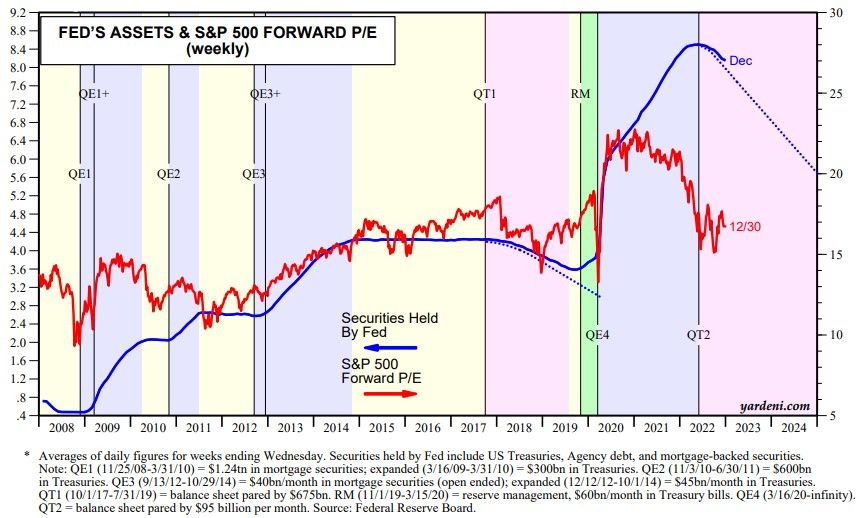 The S&P 500 is also highly correlated with the sum of the assets of the Fed, the European Central Bank (ECB), and the Bank of Japan (BOJ) (chart). This series rose from about $3.3 trillion during mid-2008 to a record high of $25.1 trillion during February 2022 and was down 12% to $22.1 trillion in November of last year. The problem with this series is that it is in dollars, which exaggerates the decline of the assets held by the ECB in euros and BOJ in yen. Nevertheless, we acknowledge that the two series have been and remain highly correlated.