Another fun-filled and data-packed week ahead. Hard to believe that the summer is almost over. That just gets us closer to a yearend stock market rally, but only if price and wage inflation rates continue to moderate, employment growth slows, and consumers stop binging. That's our outlook currently. We will get plenty of numbers this week which will either confirm or challenge whether we are still on the bullish path for stocks:
(1) On the inflation front, July's PCED (Thu) should show that inflation eased for the second month in a row, as did the last two CPI readings. Nevertheless, this past Friday, Fed Chair Jerome Powell reiterated that he is watching the core services PCED excluding housing, which has been stuck around 4%-5% for the past 12 months (chart).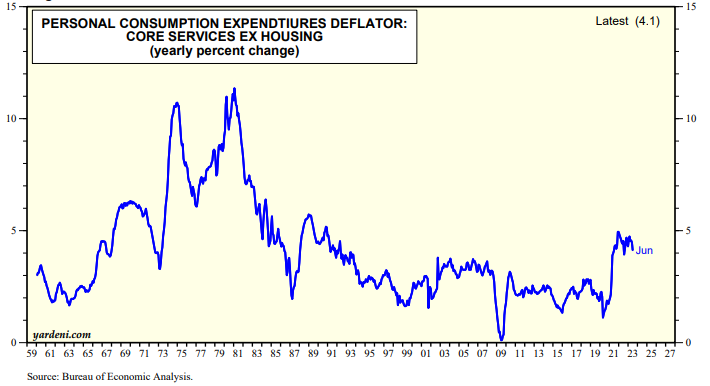 Just as important will be August's average hourly earnings (Fri) measure of wage inflation. It has moderated significantly since last summer down to 4.4% in July (chart). Powell has previously said that he would like to see it fall to around 3.0%.