On Sunday, we observed that September is a good month for picking apples. It is widely viewed as a rotten month for stocks, which has been true during 55% of Septembers since 1928. But those selloffs have often turned out to be good opportunities to pick fallen stocks just in time for a yearend Santa Claus rally.
The S&P 500 fell today back towards its 50-day moving average (chart). What could cause the index to drop below that to find support at the 200-dma, which is currently at the bottom of the bull market's channel? Consider the following seven possibilities: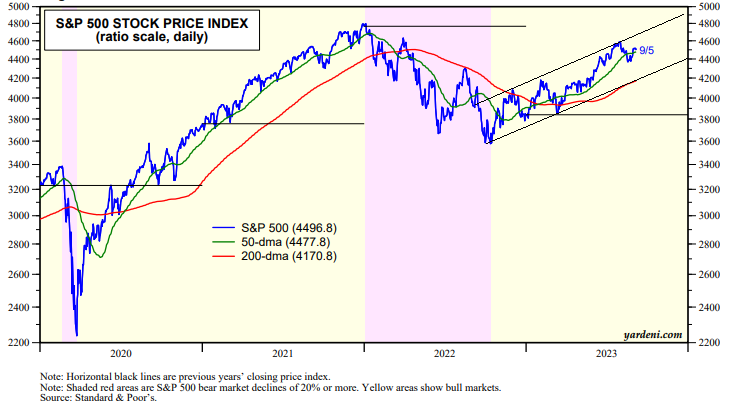 (1) Bond yield. The 10-year Treasury bond yield closed back above 4.25% today. It did so in response to rising oil prices. In addition, investors and traders are jittery about next Wednesday's CPI report for August. And, of course, there is the uncertainty about what the FOMC will decide to do on September 20. Meanwhile, the Citigroup Economic Surprise Index has been falling recently, which should be bullish for bonds, though it did edge up today (chart).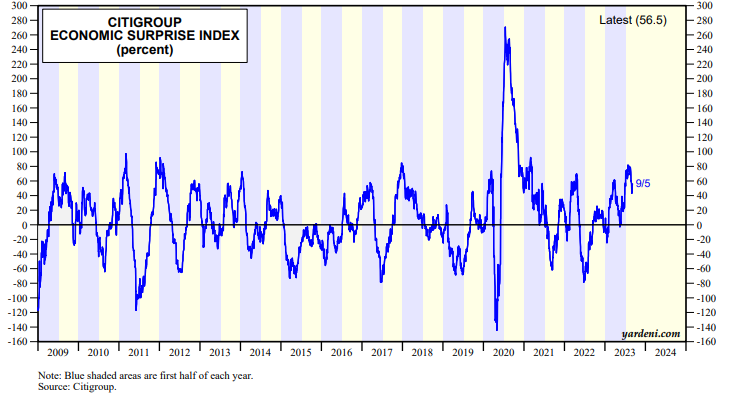 (2) Oil prices. Today, Saudi Arabia said it will extend its voluntary production cut of 1.0 mbd through yearend. The oil bulls may also be betting that China's government will stimulate the Chinese economy, boosting oil demand. These developments heighten inflationary concerns. Meanwhile, US crude oil field production jumped to 12.8 mbd at the end of August (chart).