Last year, we thought that the S&P 500's bear market might have bottomed at 3666 on June 16, when sentiment was as bearish as it was when the index bottomed at 666 on an intraday basis on March 6, 2009. We were wrong. It fell to a new low of 3577 on October 14. We viewed that as a successful retest of the June low.
So far so good. The S&P 500 is up 11.8% since then through today's close. It is still down 16.6% from the record high on January 3, 2022. It is back slightly above its 200-day moving average. This is the fourth attempt by the bulls to keep the rally going above its 200-day moving average. We think this one may succeed.
The first two failed to do so as Fed officials turned increasingly hawkish (chart). They are still hawkish, but increasingly perceived to be approaching the terminal rate of the federal funds rate, while the economy remains resilient as inflation continues to moderate.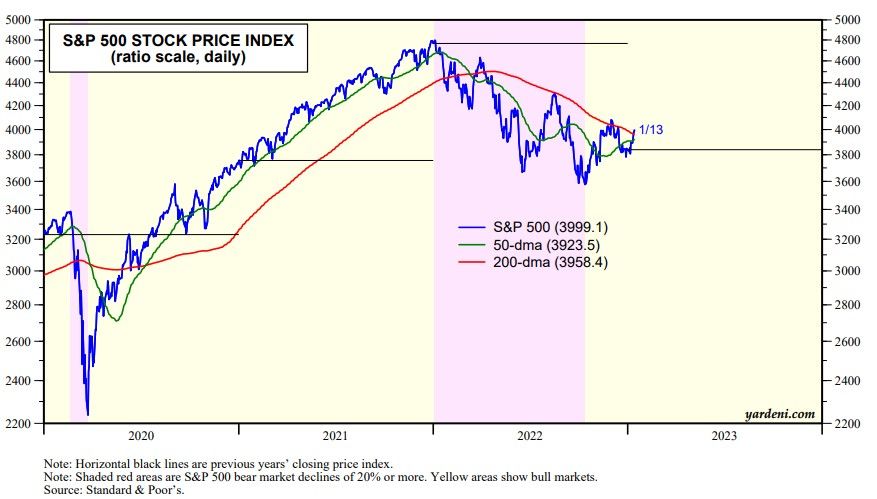 Here is the performance derby of the 11 sectors of the S&P 500 since October 14, 2022 through today's close (table): Materials (22.5%), Industrials (20.9), Financials (19.4), Real Estate (16.6), Utilities (16.1), Energy (12.0), S&P 500 (11.8), Information Technology (11.5), Health Care (11.1), Consumer Staples (10.8), Communication Services (6.9), and Consumer Discretionary (-0.8). Our overweight picks for this year are Energy, Financials, Industrials, and Materials. In addition, the worst may be over for Information Technology, which has a much brighter future now than following the Y2K tech wreck.