This was one of the worst weeks in one of the worst years, so far, for the stock market. Of the 100+ industries that we track in the S&P 500, only one was up, namely, Air Freight & Logistics. All the rest were down with more than half exceeding the 5.8% decline of the S&P 500.

Keep in mind that the S&P 500 is down 23.4% since its record high on January 3. It crossed into bear market territory (down 20%+) from correction territory (down 10%-20%) on Monday.

Even the S&P 500 Energy sector got whacked this week. It is still up 27.5% since January 3, but it gave back a whopping 17.2ppts of its winnings just this past week. Crude oil prices plunged to a three-week low in mid-day Friday trading amid ongoing concerns for a global recession.
Here is the performance derby of the 11 sectors of the S&P 500 sectors since the January 3 peak and over the past week: Energy (27.5%, -17.2%), Utilities (-9.2, -9.2), Consumer Staples (-11.5, -4.4), Health Care (-14.4, -4.5), Materials (-16.6, -8.3), Industrials (-18.8, -5.8), Financials (-22.1, -4.9), S&P 500 (-23.4, -5.8), Real Estate (-24.4, -5.4), Information Technology (-29.6, -4.9), Communication Services (-31.8, -4.6), and Consumer Discretionary (-35.6, -5.5).
Even food and agriculture industries took a beating this week. Housing-related industries were down again on soaring mortgage rates. Biotech may be starting to make a comeback; it was down only 1.5% last week.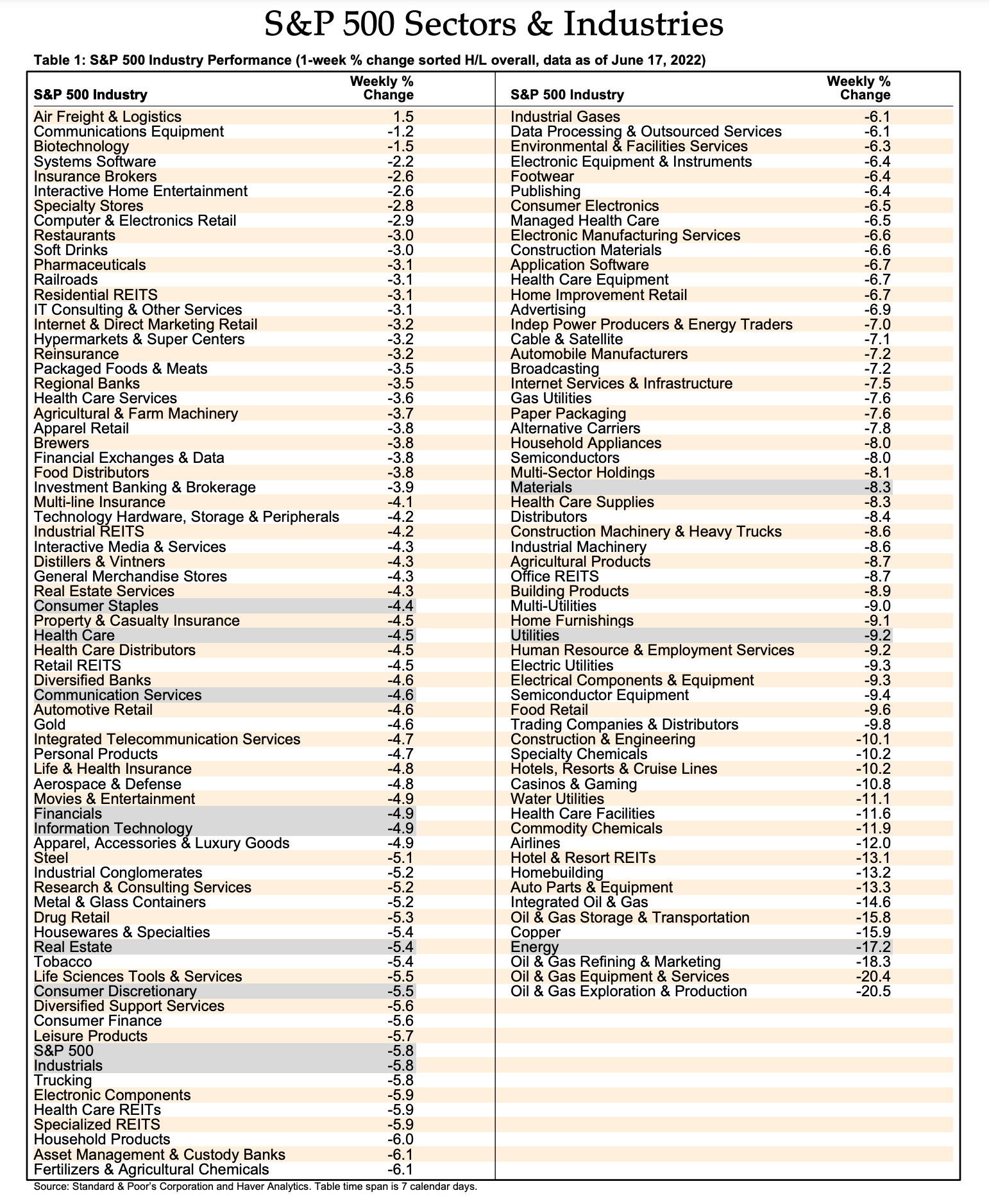 ---