The bulls continue to gain ground in our tug-of-war with the bears. Consider the following:
(1) The S&P 500 is now up 23.3% since October 12 to 4425.84 through last Thursday. That was the highest level since April 20, 2022. It was only 7.7% below the January 3, 2022 record high.
(2) Measures of breadth are improving. The percentage of S&P 500 companies with positive y/y share price changes rose to 72.3% on Friday (chart). The percentage of S&P 500 companies with positive three-month percent changes in forward earnings rose to 73.5% on Friday).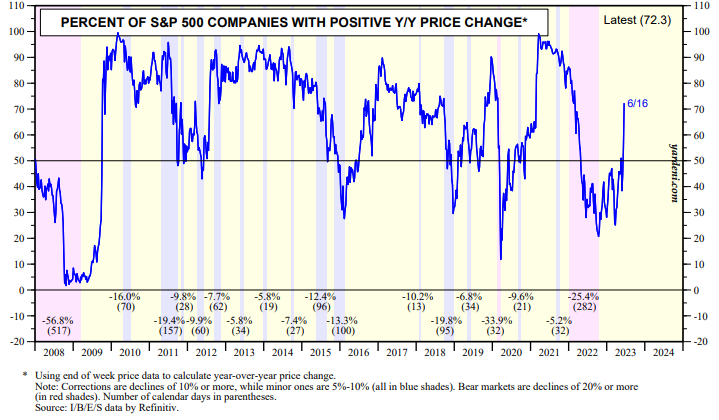 The breadth of the market narrowed significantly earlier this year because of the banking crisis in early March. The MegaCap-8 stocks (i.e., Alphabet, Amazon, Apple, Meta, Microsoft, Netflix, Nvidia, and Tesla) led a very narrow advance through May. Since the first week of 2023 through the June 16 week, their collective market cap rose 57.4%, while the S&P 492's market cap rose 0.9%.
The market's rally has broadened significantly so far in June: Consumer Discretionary (9.3%), Industrials (8.8), Materials (8.7), Information Technology (5.7), Financials (5.6), S&P 500 (5.5), Real Estate (4.0), Energy (5.3), Communication Services (3.0), Utilities (3.5), Health Care (3.4), and Consumer Staples (2.8) (chart).