What happens after a rolling recession? Perhaps a rolling expansion as the economic sectors that fell into a recession recover. Today's housing starts report for May was certainly strong. Housing starts jumped 21.6% to 1.63 million units (saar) last month from April's 1.34 million (chart). It was the largest percentage gain since October 2016.
A survey on Monday showed the National Association of Home Builders/Wells Fargo Housing Market index in June rose above the midpoint mark of 50 for the first time since July 2022 as a shortage of existing homes is boosting demand for new ones. The index has rebounded by 77% since December.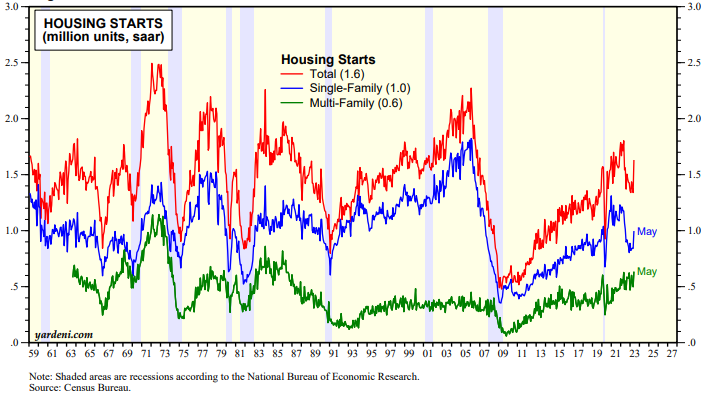 Inflation-adjusted consumer spending on goods has been in a growth recession since the second half of 2021 as consumers pivoted toward buying more services and fewer goods (chart). It is widely expected that consumer spending could turn negative once consumers' excess saving runs out later this year. We don't agree. We expect goods demand to start growing again later this year once it returns to its pre-pandemic uptrend. We also expect that consumers will have enough purchasing power to keep the economy growing.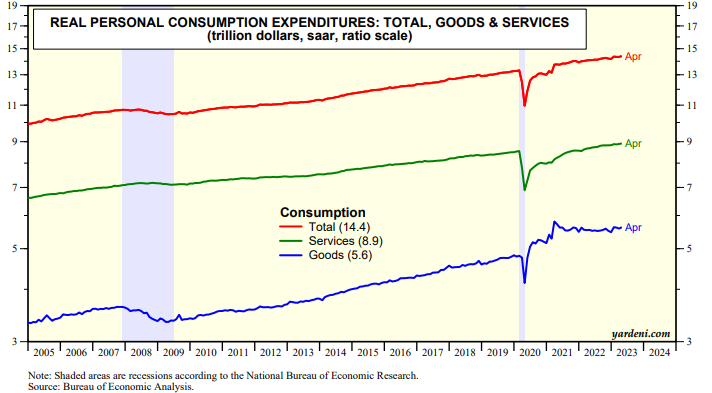 Following the release of housing starts today, the Atlanta Fed's GDPNow tracking model revised Q2's real GDP growth up from 1.8% to 1.9% (table). Residential investment has been a big drag on economic growth and now may be starting to contribute positively to it. The model's latest estimate for consumer spending is relatively weak but positive at 0.9%. We expect it will remain positive for a while.