Interest rates continued to fall today after Jamie Dimon, who is the President, CEO & Chairman of JP Morgan Chase, warned that the banking crisis is "not yet over" and will cause "repercussions for years to come." He did so in his annual letter to stockholders. With all those titles, he must know what he is talking about. He observed that potential losses from held-to-maturity bonds, were "hiding in plain sight."
Also sending interest rates lower were yesterday's March M-PMI, today's JOLTS report for February, and March auto sales:
(1) M-PMI. On Monday, we learned that the M-PMI was down to 46.3, the lowest reading since May 2020. That's somewhat unsettling because the yearly percent change in the S&P 500 is highly correlated with it (chart). Then again, the yearly percent change in the S&P 500 might have troughed recently suggesting that the worst might be over for the M-PMI, unless Dimon's concerns play out.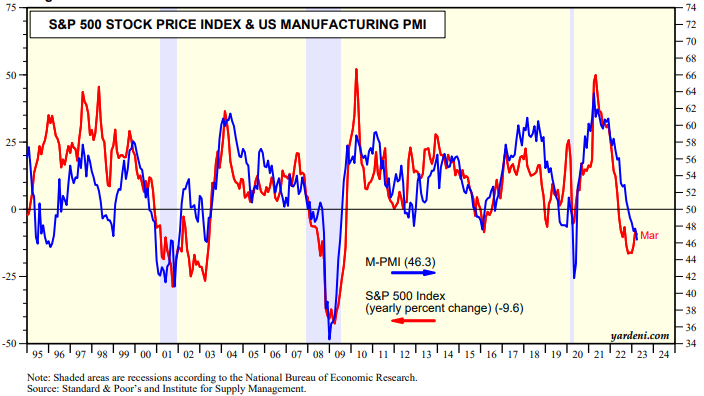 (2) JOLTS. Job openings fell to 9.93 million, a drop of 632,000 from January's downwardly revised number, the first reading below 10.0 million since May 2021 (chart). On the other hand, quits rose by 146,000 to just over 4 million, suggesting that switching jobs remains easy to do. Fed officials are watching these labor market indicators closely.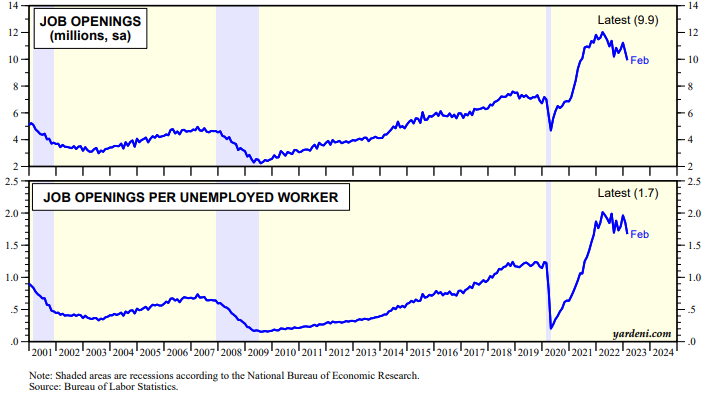 (3) Auto sales. US motor vehicle sales fell to 14.9 million units (saar) during March, suggesting tougher lending standards and rising interest rates are slamming the brakes for some would-be auto buyers (chart).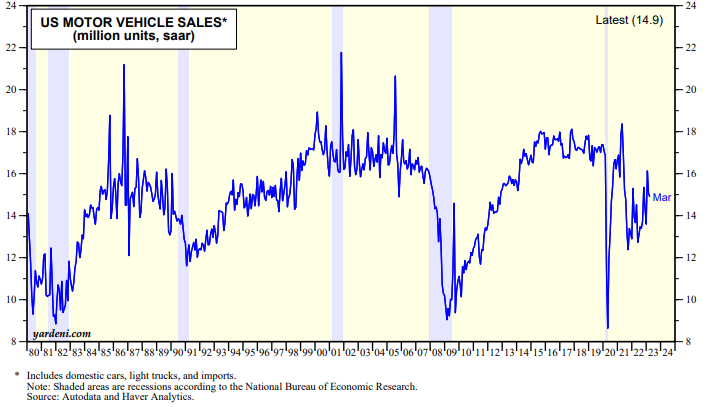 (4) GDPNow. The Atlanta Fed's GDPNow tracking model lowered the Q1 estimate for real GDP from 2.5% to 1.7%, led by slower consumer spending, i.e., up 3.7% instead of 4.6% (table). Those aren't hard-landing numbers.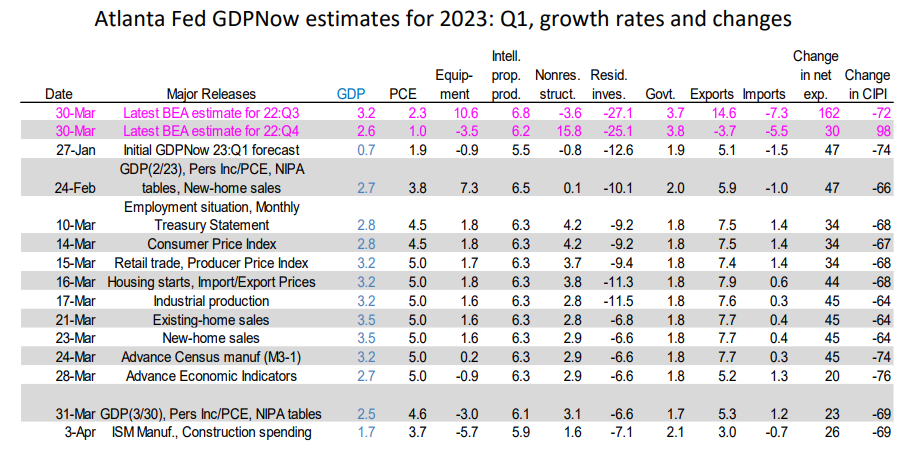 (5) Bottom line. The Fed might be done.