Interest rates fell sharply today on news that December's PPI confirmed that inflation is falling rapidly.  The PPI inflation rate plunged from almost 18.0% y/y in mid-2022 to 6.2% by the end of the year (chart). Both the goods and services components of the PPI are disinflating.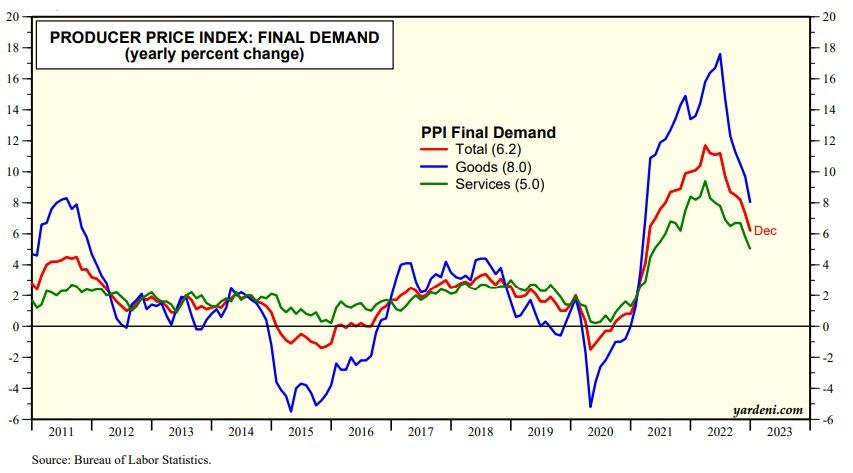 The PPI includes indexes for personal consumption based on prices received by the providers of the goods and services purchased by consumers (chart). Here are the key stats:
(1) Total. The final demand PPI for personal consumption dropped from about 10.0% y/y during the first half of 2022 to 5.6% during December. The three-month annualized rate was down to just 0.9% during December suggesting that the y/y rate will continue to fall in the next few months.
(2) Goods. The goods component has been cut in half from about 20.0% to under 10.0% during the second half 2022. It still remains surprisingly high considering that it is down to 4.7% in the CPI. However, the three-month annualized rate for consumer goods in the PPI was down to -2.8% at the end of last year.
(3) Services. The PPI measure of consumer services does not include rent. The y/y inflation rate was down to 4.5% during December, well below the 7.5% rate for CPI services. The three-month annualized inflation rate for consumer services in the PPI was down to only 2.2%.