Reuters reported today that the major US oil and gas producers spent more on payouts to shareholders last year than on exploration and development, according to an Ernst & Young report. By reducing capital spending, the industry is reducing its costs, contributing to upward pressure on oil and gas prices, and increasing its dividends and buybacks as profits swell.
Of course, plenty of other factors are influencing prices as well. This year, slower global economic activity led by weak growth in China has been weighing on prices. OPEC+, led by Saudi Arabia, responded to that development by reducing production this summer.
The nearby futures price of a barrel of NYMEX crude oil fell from $81.64 on January 20 to $66.74 on March 17 on weaker-than-expected Chinese demand. It rallied to $84.40 on August 9 and closed at $79.75 today as OPEC+ reduced output. On the Chicago Mercantile Exchange, the futures prices show that the price of oil prices is expected to fall over the next two years (chart).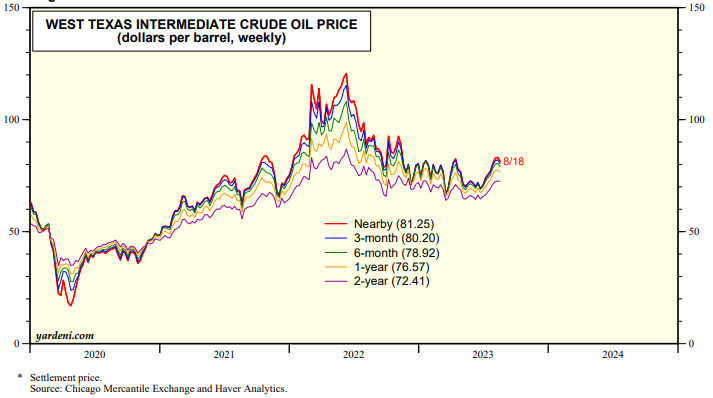 Notwithstanding the cuts in capital spending by the oil & gas industry, US crude oil field production jumped to 12.7mbd during the August 11 week (chart). It is approaching the record high just before the pandemic.