The 10-year Treasury bond yield fell for a change today. It peaked at 4.87% at 2:45 am, but ended the day at 4.72% thanks to falling oil prices and a weak September  payroll employment report from ADP. Brent crude oil futures settled down $5.11, or 5.6%, to $85.81 a barrel while US West Texas Intermediate crude (WTI) fell $5.01, or 5.6%, to $84.22.
A 30% spike in fuel prices during Q3 depressed demand for gasoline (chart). Once again the lesson is that the best cure for high commodity prices is high commodity prices.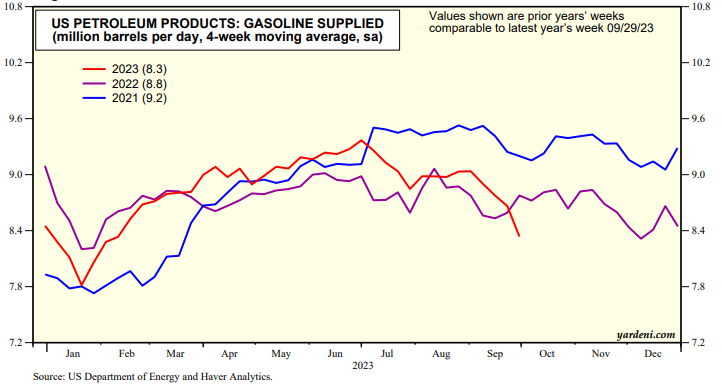 ADP reported that payrolls rose just 89,000 last month offsetting revived fears that the job market remains too tight following Tuesday's August job openings report. It's unlikely that the economy has slowed as much as suggested by ADP's stat. Today's NM-PMI for September showed a small downtick with the index and its major components all solidly above 50.0 (chart).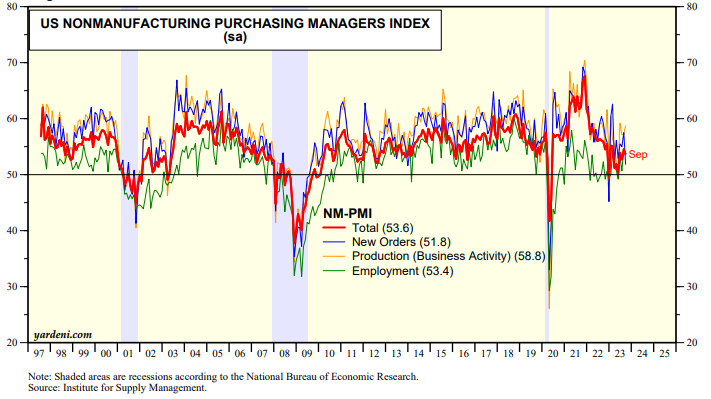 The rally in the bond market gave a small boost to the S&P 500 which may be starting to build support just north of its 200-day moving average. Sentiment has turned relatively bearish with the Bull/Bear Ratio down to 1.77 this past week (chart). That's bullish from a contrarian perspective.