Almost everyone working on Wall Street is on vacation, except for the bears. They've been munching on stock prices, especially those of some of the MegaCaps like Tesla and Apple. There was a Santa Claus rally, sort of, when the S&P 500 climbed 14% from October 12 through November 30. But it has fizzled since then as investors fretted about further Fed tightening and a recession in 2023. The index is down 7.3% so far in December.
Among the earliest reads on the economy are the regional business surveys conducted by five of the Fed's 12 district banks. They are all available for December. The average of their composite business activity indexes was -10.4 this month, suggesting that the national M-PMI dropped further below 50.0 during December (chart).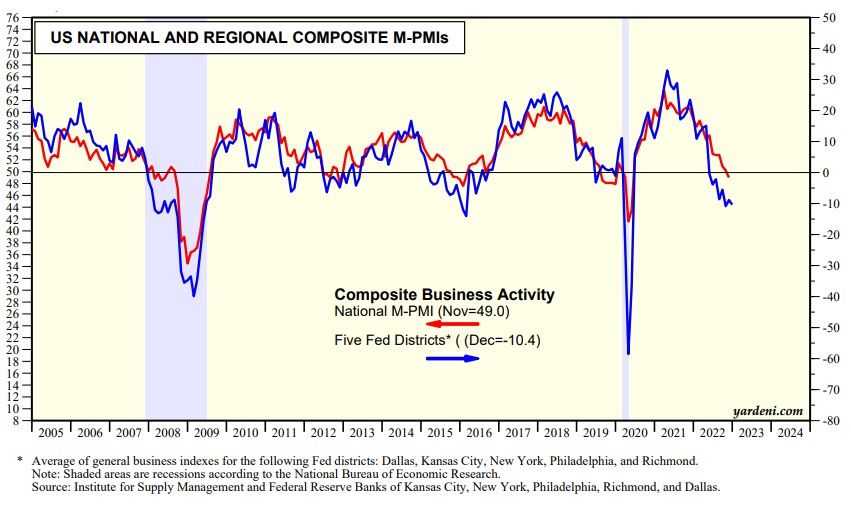 That might freak out recession-fearing investors on Tuesday, January 3 when the M-PMI will be released. However, a couple of days later, the NM-PMI report should show that index remained above 50.0. We already know that the weakness in goods demand has been offset by strength in services demand.
The good news in the M-PMI release at the start of next month should be that unfilled orders and delivery times are falling as evidenced by the comparable data from the regional business surveys (chart).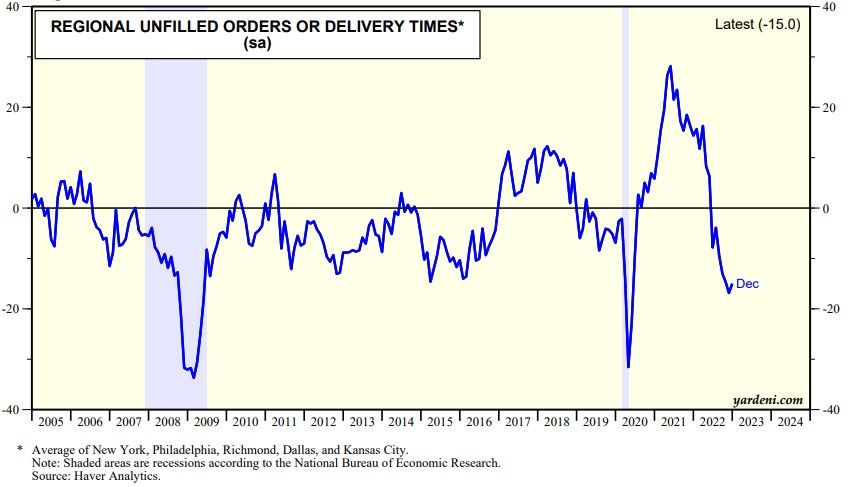 The easing of supply chain problems along with weakening demand for goods is continuing to put downward pressure on the regional prices-paid and prices-received indexes (chart). Goods inflation continues to moderate.
This all suggests that the terminal rate of the federal funds rate should occur sooner and be lower than some fear.