The stock and bond markets reacted badly to today's stronger-than-expected personal income data and hotter-than-expected PCED. Is the economy experiencing an inflationary no-landing scenario? If so, Fed officials might conclude that the only way to bring inflation down is to push interest rates up until they cause a hard landing.  
More likely in our opinion is that these two indicators along with January's other economic stats were boosted by unusually mild winter weather and are bumps on the road to a soft landing. February's indicators will be closely watched by Fed officials and all the rest of us with skin in the game. Here are our quick takes:
(1)  Personal income. We were surprised by January's big payroll employment gain, but not by the strength in the month's retail sales and now personal income. The employment data boosted our Earned Income Proxy for private wages and salaries in personal income (chart). Personal consumption expenditures were boosted by a jump in auto sales and food purchased at restaurants and bars.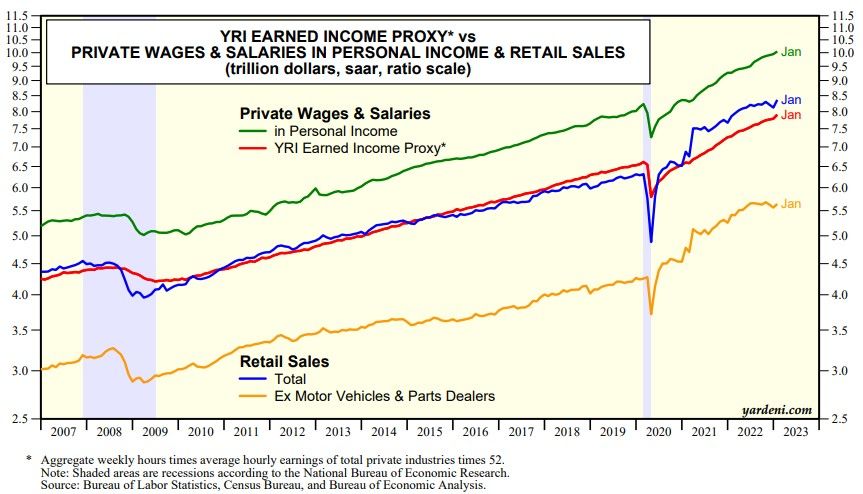 By the way, inflation-adjusted personal income rose 0.6% m/m. while after-tax disposable personal income increased 1.4%. We asked the BEA why the big drop in taxes (chart). It had something to do with the way BEA accounts for taxes not withheld from wages. Income was also boosted by the increase in Social Security payments primarily reflecting an 8.7% cost-of-living adjustment. However, it was offset by reductions in other government social benefits such as the expiration of the extended child tax credit.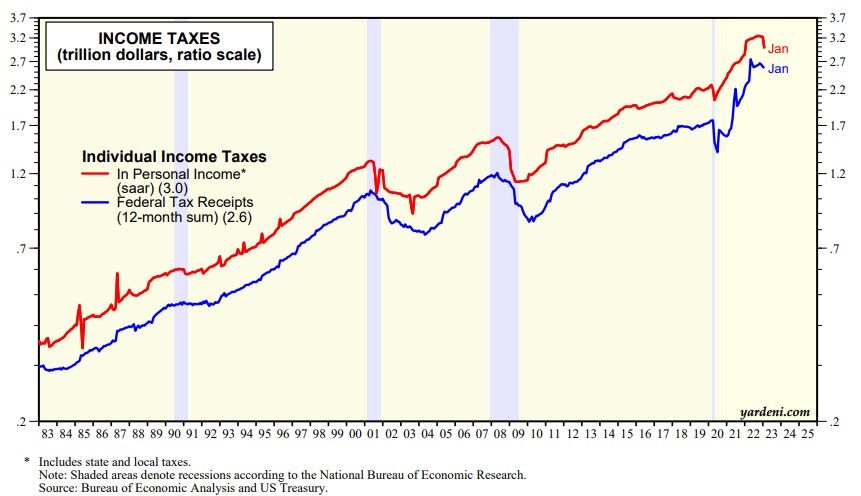 (2) PCED. While January's m/m CPI and PCED inflation rates were hotter than expected, their y/y inflation rates are still disinflating overall (chart). The inflation rate for goods clearly peaked last year. Services has yet to do so, but typically lags. We are expecting it will peak around mid-year.
Fed Chair Jerome Powell at his February 1 press conference said: "And it's most welcome to be able to say that we are now in disinflation .... But we just see that it has to spread through the economy and that it's going to take some time."