The announcements have come fast and furiously. Anyone who has anything to do with AI is broadcasting it to the world loudly. Chip manufacturers, software providers, social media companies, and the average Joe all are talking about how they're harnessing the power of AI to work faster and smarter. This week's news has been dominated by Nvidia's impressive AI offerings unveiled at its software developer conference and Google's rollout of Bard. Dare we suggest that it feels like the beginning of what will become the next big bubble?
This week has also brought the latest AI fake: A picture of former president Donald Trump resisting police arrest, an event that has not occurred but seems plausible given that a grand jury is considering whether to indict Trump over alleged hush-money payments to Stormy Daniels during the 2016 presidential campaign.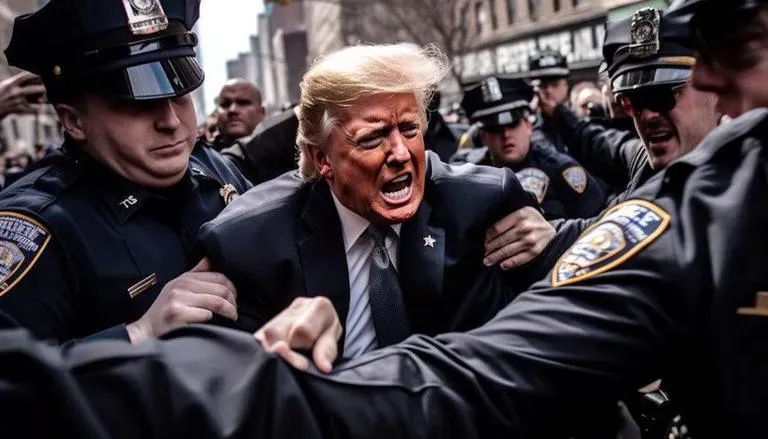 The fake picture was generated by Elliott Higgins, founder of Bellingcat, an independent international collective of researchers, investigators, and citizen journalists, a March 21 ARS Technica article reported. He used AI engine Midjourney V5 to generate the image he initially posted on Twitter. Even though Twitter prohibits users from sharing share synthetic or manipulated media, the picture has gone viral.
Here are some of the latest developments in the expanding world of AI:
(1) Nvidia wows the crowds. In the AI space, Nvidia has been investors' darling; they've bid its shares up a steep 79.3% ytd through Tuesday's close. The tech company held a software developer conference this week highlighting chips with various AI capabilities and revealing its DGX cloud service. Through DGX, companies will rent space on supercomputers that use Nvidia chips to develop AI technologies for the price of $37,000 a month, a March 21 Reuters article reported. The company is working with cloud providers Oracle, Microsoft, and Alphabet.
Nvidia also introduced three new services that companies can use to develop their own AI applications trained on their own data. NeMo generates language, Picasso can produce images and videos, and BioNeMo allows players in the life-science industry to "generate scientific texts using biological data," a March 21 Venture Beat article explained.
(2) Google's Bard now available. Google opened public access in the US and UK to Bard, its ChatGPT alternative. "Bard is designed to respond to written prompts using information sourced from websites such as Wikipedia and can handle follow-up questions in a conversational manner," a March 21 WSJ article reported. Google still considers Bard an "early experiment" and posts the following disconcerting message at the bottom of its site: "Bard may display inaccurate or offensive information that doesn't represent Google's views."
Meanwhile, OpenAI rolled out a new and improved version of ChatGPT, GPT-4, which will be used in Microsoft's search engine, Bing. And not to be left behind is China's search engine company Baidu, which introduced its chatbot Ernie earlier this month; but the lack of a live demonstration disappointed some observers.