The S&P 500 rallied along with regional bank stocks today. It found support yesterday at its 50-day moving average. Shares of Western Alliance, Comerica, and Zions Bancorp were upgraded to the equivalent of a buy recommendation by analysts at JP Morgan. They said "with too many on one side of the boat, we move to the middle." Also giving the market a lift: Apple's shares were up almost 5% following better-than-expected quarterly results and news of a raised quarterly dividend and $90 billion buyback plan. The Fed Put may be kaput, but the CFO Put is still in play as corporate buybacks continue.
After the market close on Thursday, the Fed reported a downtick during the May 3 week in its liquidity facilities which might have helped to calm fears that the banking crisis is worsening (chart). After the close today, the Fed released data on the assets and liabilities of commercial banks for the April 26 week. They showed increases in securities ($7.7 billion) and loans ($41.6 billion). Deposits fell $12.5 billion and borrowings fell $2.5 billion. Move along: There's no credit crunch to see here. (See our Commercial Bank Book.)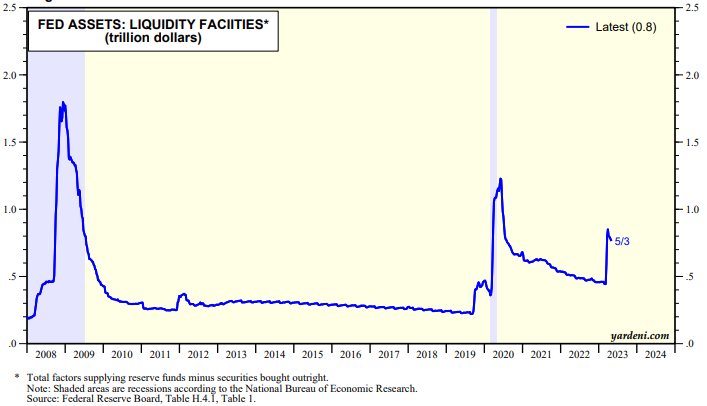 Of the 419 companies in the S&P 500 that have reported earnings to date for Q1, 77.1% have reported earnings above analysts' consensus estimates. This compares to a long-term average of 66.3% and prior four-quarter average of 73.5%. The YRI measure of forward earnings breadth rose to 66.9% during the May 5 week (chart).