We coined the acronym "MAMU" in our May 16, 2013 Morning Briefing. We wrote: "After the widely dreaded 'fiscal cliff' scare turned out to be a non-event at the start of 2013, [stock investors] were tired of being anxious that the bull would get tripped by a bear." We opined: "Perhaps now that investors are no longer fearful that the end is near, all the liquidity pumped into the financial markets by the major central banks over the past four years to avert the Endgame scenario is about to cause the Mother of All Melt-Ups (MAMU)."
The ensuing MAMU ended on February 9, 2020 as the pandemic hit. The next MAMU started soon after on March 23, 2020, when the Fed announced QE4ever, and ended on January 3, 2022, when investors started to conclude that nothing is forever in the stock market. The recent bear market ended on October 12. Now that the latest fiscal cliff has been averted, is another MAMU underway led by stocks that are AI frenzy plays? Maybe.
In any event, the S&P 500 rose to a new 2023 high on Friday, providing support to our call in late October that the index had bottomed on October 12. It is up 19.7% since then to its highest reading since August 18, 2022. The Nasdaq bottomed on December 28 of last year and is up 29.6% since then to the highest reading since April 20, 2022.
Since the start of this year, we have been targeting 4600 on the S&P 500 by the end of this year. That was and still is a contrary call. We sure hope this bull market doesn't get there too far ahead of schedule. Past MAMUs have always occurred at the end of bull markets, not when they are just starting.
The latest bear market ended with much higher valuation multiples than most previous ones. The forward P/E of the S&P 500 was 15.1 on October 12. It was 18.3 on Friday. The forward P/E of the MegaCap-8 was 29.6 on Friday. Excluding them, the forward P/E of the S&P 492 was 15.6 (chart).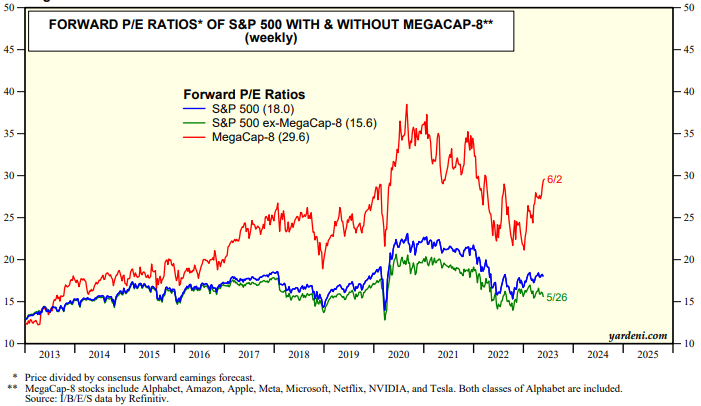 Most astonishing is that the MegaCap-8's market cap has melted up by 58.1% from this year's low of $6.8 trillion on January 5 to $10.7 trillion through Friday's close (chart). Together, these eight stocks (i.e., Alphabet, Amazon, Apple, Meta, Microsoft, Netflix, Nvidia, and Tesla) now account for a record 26.6% of the market cap of the S&P 500.