Fed Chair Jerome Powell was a bit less hawkish today. He said he still thinks there is a "path to a soft or softish" landing for the economy. He also suggested that the next hike in the federal funds rate on December 14 is likely to be 50bps rather than 75bps. So stock prices exploded to the upside. The DJIA soared more than 735 points, or 2.2%. The S&P 500 rose 3.1%. The Nasdaq shot up 4.4%.
Investors seem to have concluded that inflation peaked during the summer and will continue to moderate through next year. That's been our forecast since earlier this year. They were happy to hear Powell say today that the Fed doesn't want to tighten too much if that won't be necessary to bring inflation down.
This morning, the Federal Reserve's latest Beige Book, which sums up economic anecdotes from the central bank's dozen regional banks across the country, showed that there is growing evidence of moderating inflation: "The pace of price increases slowed on balance, reflecting a combination of improvements in supply chains and weakening demand."
The S&P 500 jumped above its 200-day moving average today (chart).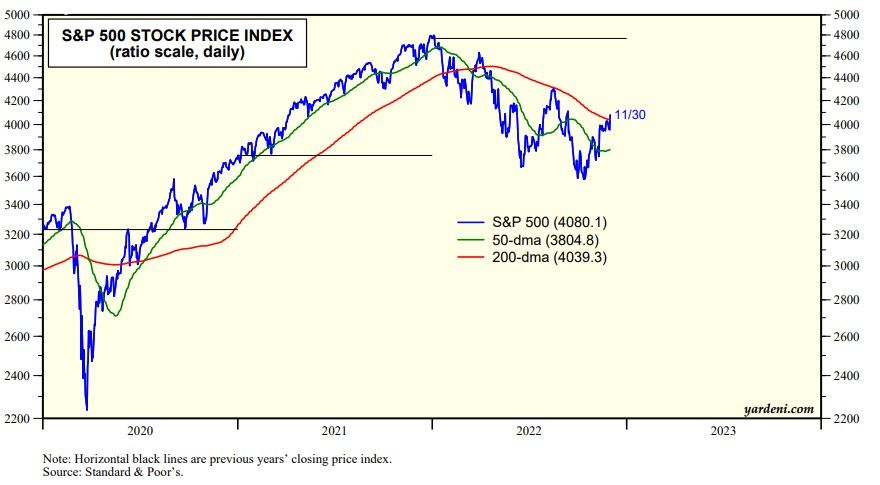 There was some really good news today for the bulls from a contrarian perspective. Investors Intelligence Bull/Bear Ratio remained depressed at 1.22 this past week and the equity put/call ratio jumped to 1.27 as put buying soared (charts).
All we want for Christmas is a rocket ship for Santa. Our yearend target is still 4305 for the S&P 500. That looked too high yesterday...but not too high today.