Inflation is no longer transitory or persistent. It is protracted. The headline and core CPI inflation rates have yet to peak because rapidly rising energy prices continue to put upward pressure on the headline rate directly and on the core rate indirectly by boosting energy-related costs like transportation. The headline and core rates for May were 8.6% y/y and 6.0% y/y.
Here are a few quick takes on this morning's release of the CPI data for May:
(1) Energy. The m/m and y/y increases in energy remained hot for gasoline (4.1%, 48.7%), fuel oil (16.9, 107.7), electricity (1.3, 12.0), and piped gas (8.0, 30.2).
Transportation services inflation rose 7.9% y/y, led by a 37.8% jump in airline fares.
(2) Food. Food prices also continued to rise rapidly m/m and y/y: total (1.2%, 10.1%), at home (1.4, 11.9), and away from home (0.7, 7.4).
(3) Rent. Rent-of-shelter inflation remained high at 5.5% y/y, led by a 19.3% increase in lodging away from home. Tenant rent was up 5.5% y/y, while owners' equivalent rent was up 5.1% y/y.
(4) Autos. The prices of both new and used vehicles continue to boost overall inflation with y/y gains of 12.6% and 16.1%.
(5) The Fed. The 2-year US Treasury note yield shot up to 2.96% after the CPI news was released, signaling that investors now expect that the Fed will have to raise the federal funds rate by another 200bps over the next 12 months. The 10-year yield remained around 3.10%, suggesting that the yield curve is anticipating a significant economic slowdown, which will lower inflation.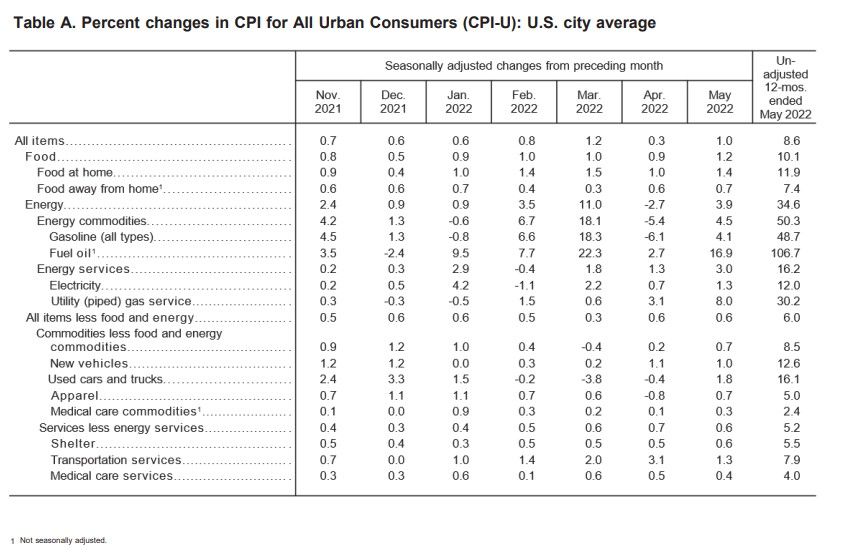 ---