The bull market seems to be taking a rest. The S&P 500 has stalled just below 4200 since the start of May (chart). That's good considering that several vocal bears predicted that the S&P 500 would fall back down towards its October 12 low during the first half of this year. However, those who recommended going away in May (as the old adage says) might have been right given that the S&P 500 rose just 0.2% during May with lots more industries down than up (table at the end). Only three of the 11 sectors of the S&P 500 rose during the month.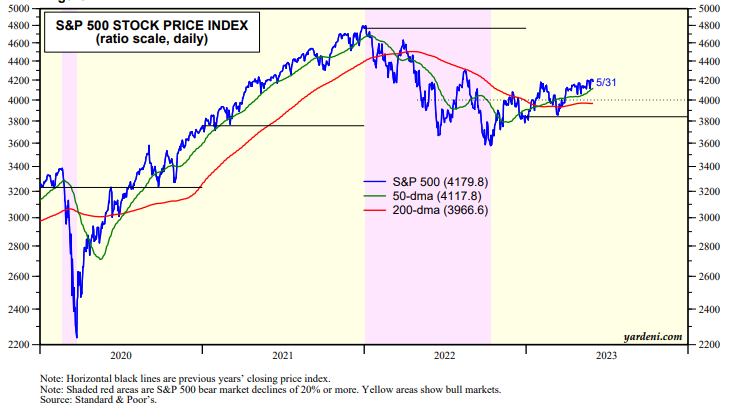 This bad breadth could be a setup for a rout, as widely feared. More likely (and contrary), in our opinion, would be a broadening of the rally led by a rebound in Financials if the banking crisis continues to abate and the FOMC passes on another rate hike at the June 13-14 meeting of the committee.
Meanwhile, sentiment is mixed. Bulls exceed bears by 24.6ppt in the Investors Intelligence survey, but bears exceed bulls in the AAII survey by 12.3ppt (chart).