Investors are confused: Is the economy strong or is it weak? The answer is "Yes." The labor market is strong, but the manufacturing side of the economy is weak. We've all known that for a while. Today's indicators confirmed what we know.
On the weak side today was the ISM Chicago Business Survey as evidenced by the drop in its Purchasing Managers Index (PMI) from 48.6 in April to 40.4 in May. The Chicago PMI reading combines manufacturing and services into one report unlike the national ISM reports. We already knew from the five regional Fed business surveys that manufacturing remained weak around the country during May, as we reported yesterday.
We also know that the labor market remained strong during the past two months. The latest JOLTs report, released today, revealed 10.1 million job openings at the end of April, an increase from the 9.8 million in job openings reported in March and  their highest level since January (chart). The ratio of jobs to unemployed workers is back to 1.8. The rate at which workers have been quitting their jobs (presumably for better, higher-paying ones) fell to 2.5 per 100 workers for the same period, approaching the pre-pandemic average of 2.2.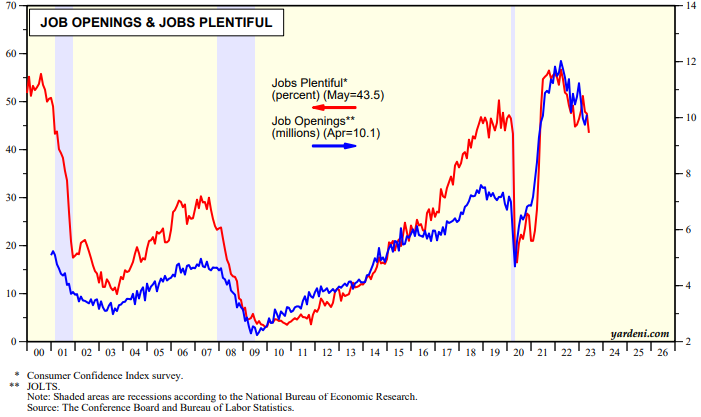 We also know that the "jobs plentiful" series in the Consumer Confidence survey fell in May but remained elevated. The "jobs hard to get" series edged up, but remained low, confirming the recent low readings of the unemployment rate (chart).