It's a short week ahead and a light one for economic releases. We expect that the financial markets will start to focus on the following week when both the CPI and  the federal deficit will be released for August on Wednesday, September 13. One week after that happens, the FOMC will decide whether to hike the federal funds rate or not. We think the Fed is done. We remain optimistic about the outlook for inflation, but we can't find any way to put lipstick on the debt pig that Washington is feeding.
In any event, August's NM-PMI (Wed) could confirm that the services economy is slowing as shown by the comparable series compiled by S&P Global (chart).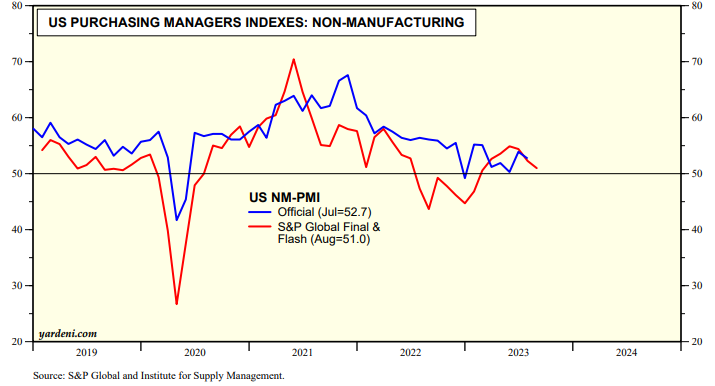 We will be interested to see the prices-paid index in the NM-PMI survey. It has been a remarkably good 3-month leading indicator of the headline CPI inflation rate on a y/y basis (chart). It suggests that this inflation rate could be close to 2.0% in October's CPI report, which will be released during the second week of November, just in time for another Santa Claus rally!