Don't underestimate "MAMA," which stands for "Making America Manufacture Again." Manufacturers, large and small, domestic and foreign, are tapping into the trillions of dollars of incentives available in the CHIPS and Science Act, the Inflation Reduction Act (IRA), and the Infrastructure Investment and Jobs Act to build factories in the US. They plan to make semiconductors, batteries, solar equipment, electric vehicles (EVs), and green hydrogen, among other things. So many manufacturers have locked down locations for new plants that it's now hard to find shovel-ready 'megasites,' an April 13 Reuters articlereported.
If the US manages to skirt a recession, it will be due in good part to the massive capital spending and building related to these plants. As we've noted before, capital spending in real GDP rose to a record high of $3 trillion (saar) during Q1-2023, and manufacturing construction put in place jumped 62.3% y/y through March to its latest record high of $147.4 billion. Many of the proposed factories have yet to break ground and are not reflected in these numbers. Assuming that the projects go forward, building and then operating these facilities should provide an economic tailwind.
Notwithstanding the recession rolling through the single-family housing industry, construction spending rose to yet another record high in April (chart).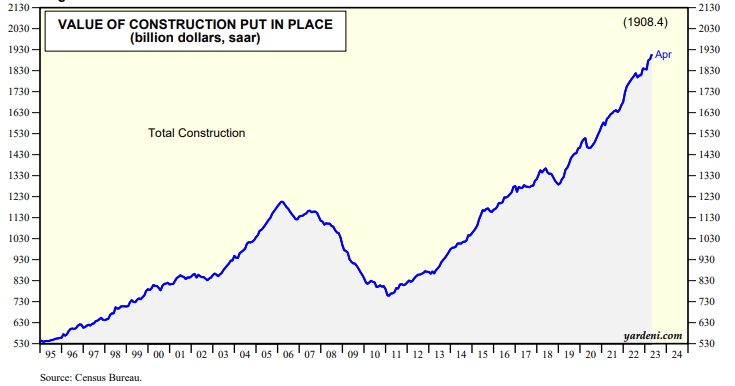 Leading the way has been nonresidential construction, particularly of manufacturing facilities. The latter rose to yet another record high of $189.0 billion (saar) during April, up a whopping 152.2% over the past 24 months (chart).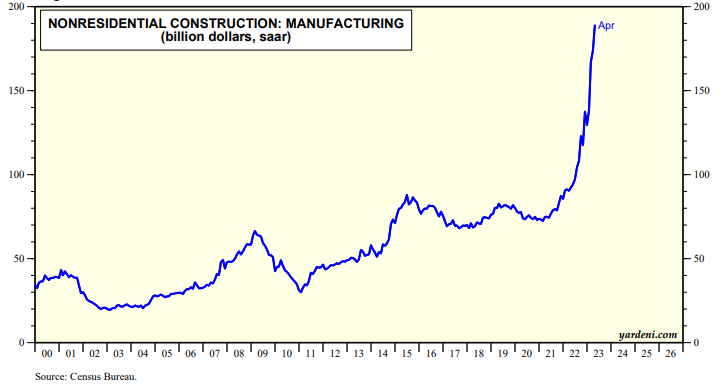 No wonder payroll employment in construction rose to yet another record high during May, of 7.9 million. Payroll employment in heavy and civil engineering construction also rose to a record high last month, of 1.1 million.
MAMA mia!
By the way, keep in mind that manufacturing capacity in the US has been flat since China joined the World Trade Organization on December 11, 2011 (chart). Now it should start expanding again.