The stock market rally narrowed significantly when the banking crisis clobbered the S&P 500's Financials sector in March (chart). The bears have been saying that this is a bearish development. We've been thinking that the rally could broaden once investors stop worrying about which banks are vulnerable to deposit runs and loan losses. Instead, we've been suggesting that investors should be focusing on which ones might merge or acquire other banks  to cut expenses, especially expected increases in regulatory costs.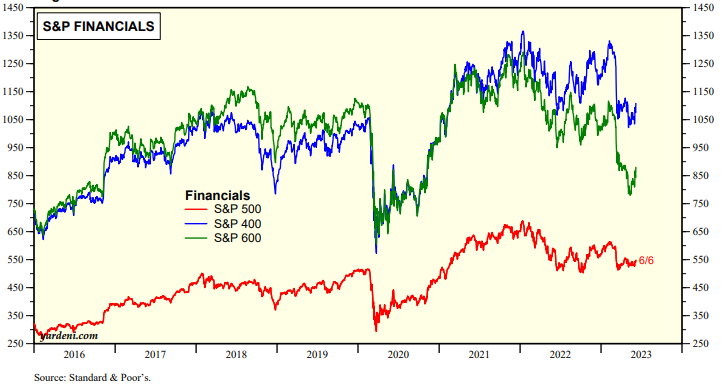 This morning Treasury Secretary Janet Yellen agreed with us. "There is motivation to see some consolidation and it wouldn't surprise me to see some of that going forward," Yellen said in an interview on CNBC's "Squawk Box." Yellen said she wouldn't want to see the diverse banking system threatened by further consolidation, but it would be understandable given the pressure on earnings some banks are experiencing.
Bank stocks rallied on Tuesday partly because Goldman Sachs lowered its estimate of the odds of a US recession over the next 12 months to 25% based on waning banking-sector stress and the bipartisan agreement to suspend the nation's debt limit. We lowered our recession odds from 40% to 30% 0n May 22.