Ground control to Major Tom: "Have you heard that the US economy is falling into a recession?" Like David Bowie's astronaut, S&P 500 industry analysts seem to be in outer space. Their earnings estimates are certainly out there still:

(1) Our Squiggles analysis (below) shows that through the week of June 9, the S&P 500 consensus revenues estimates for 2022 and 2023 are still at record high altitudes. The same can be said for S&P 500 forward revenues, the time-weighted average of the consensus estimates for this year and next year.

(2) The same goes for analysts' consensus forecasts for 2022, 2023, and forward earnings. They trimmed their 2022 estimate just a bit to $229.35, but raised their 2023 estimate to $251.79.

Forward earnings edged down to a still-near-record $239.28. The S&P 500 closed at 3666.77 today, resulting in a forward P/E of 15.3. (Da Vinci Code Alert: The S&P 500 is 3000 points above the intra-day bear market low of 666.79 on March 6, 2009!)

(3) While industry analysts are trimming their profit margin estimates for 2022 and 2023, the forward profit margin rose to a record high last week.
(4) Most years in the past during economic expansions, analysts were too optimistic and had to lower their annual earnings estimates, but forward earnings continued to rise. During the current economic expansion since the lockdown recession, they've been raising their earnings estimates across the board. Over the past year, inflation has undoubtedly boosted earnings projections.

(5) Investors clearly are anticipating that Major Tom is soon likely to come crashing back to Earth as a recession clobbers revenues and profit margins. Our current opinion is that the probability of a recession is high at 45%, but less than 50%.

(6) We have similar Squiggles for the 11 sectors of the S&P 500. A few sectors are starting to get pulled down by gravity: namely, Communication Services, Consumer Discretionary, and Consumer Staples, while the others are still flying high.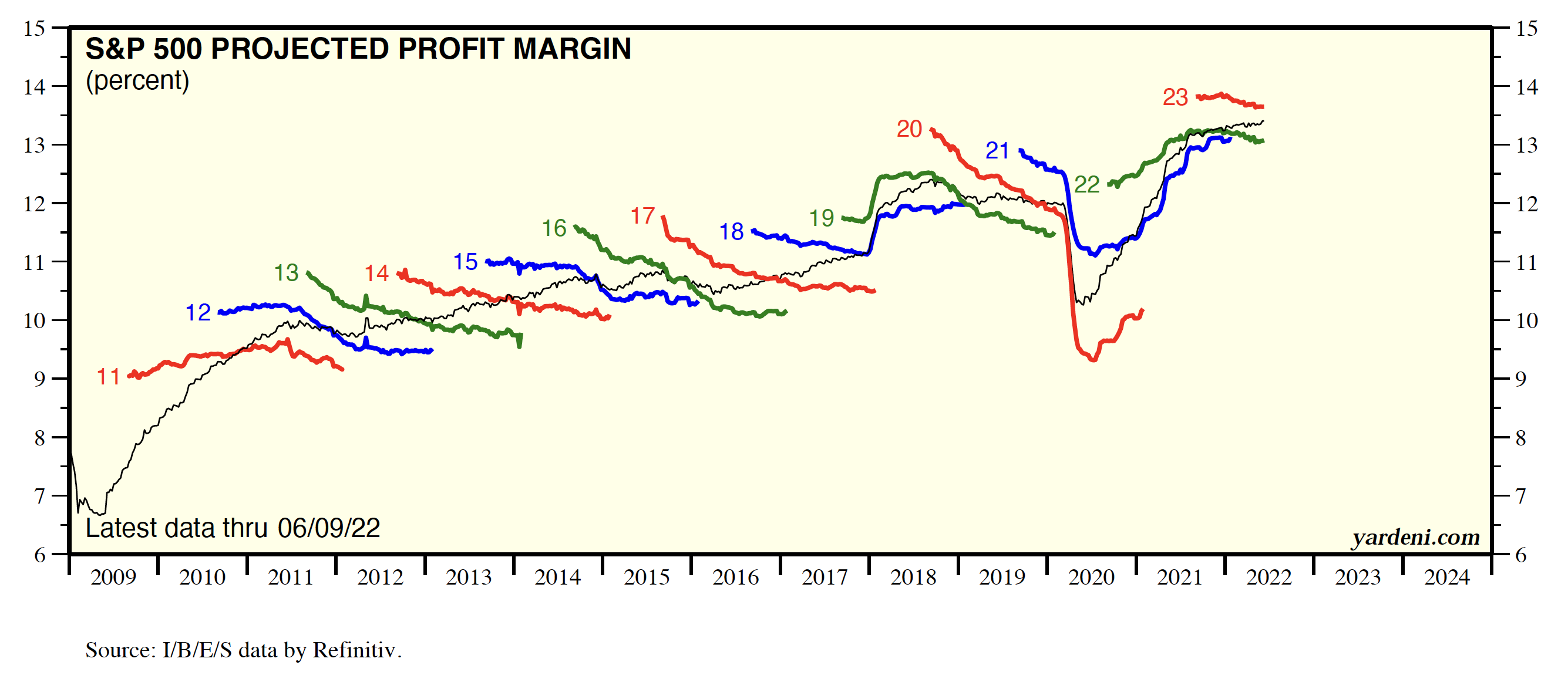 ---