The Saudis are kicking the barrel down the road. Saudi Energy Minister Prince Abdulaziz bin Salman announced an extra 1 million barrel-a-day (mbd) supply cut in July following a tense OPEC+ meeting in Vienna over the weekend. "Others in the group pledged to maintain existing cuts until the end of 2024," Bloomberg reported, "though Russia made no commitment to curb output further and the United Arab Emirates secured a higher production quota for next year."
The Saudi oil minister pledged at the meeting to do "whatever is necessary to bring stability to this market." In the days prior, he had warned bears in the futures markets to "watch out." The markets are likely to call his bluff.
The Saudis' problem isn't bears in the futures market but rather too much world oil production and not enough world oil demand. Reducing their output by 1.0 mbd for one month isn't likely to fix the imbalance. The problem is that the Russians are selling whatever they can at a discount to China and India. The US and Canada are pumping more oil. And global demand for oil has been weak, especially in China. China's M-PMI was especially weak during May, when the index and its major components were all below 50.0 (chart).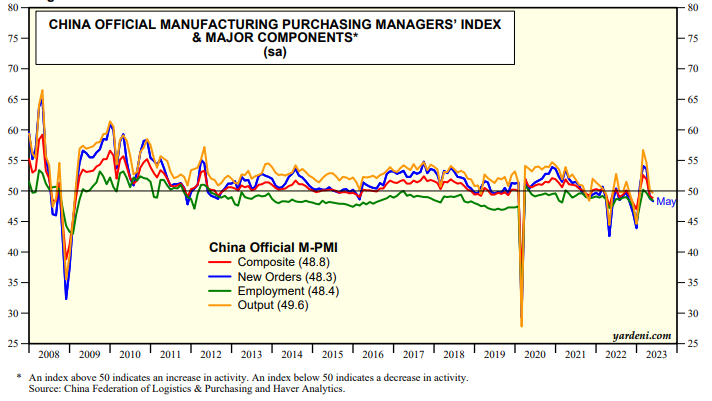 Interestingly, both copper and oil prices are especially sensitive to developments in China. They diverged earlier this year when the price of copper rallied on expectations that the end of China's Covid lockdowns would boost China's economic activity significantly (chart). The crude price disagreed with copper's bullishness and seems to have been correct, as the price of copper has been falling since January 26 on disappointing economic news from China.