Tech stocks seem to go up whenever the bond yield stops doing so. Leading tech stocks higher today was Tesla, which is actually in the S&P 500 Consumer Discretionary sector. Morgan Stanley issued a very bullish report on the auto company's new "Dojo" supercomputer. It suggests that Tesla may also be a play on AI.
Meanwhile, the 10-year Treasury bond yield remained below 4.30% following a report that consumers' inflation expectations remain subdued, while more of them are worrying about the availability of credit. On the other hand, the Fed reported on Friday that household net worth rose to a record high. Consider the following:
(1) Inflation expectations. August's survey of consumers conducted by the NY Fed found that expectations for inflation one-year ahead rose just 0.1 percentage point m/m to 3.6% (chart). The three-year expected inflation rate edged down 0.1 point to 2.8%.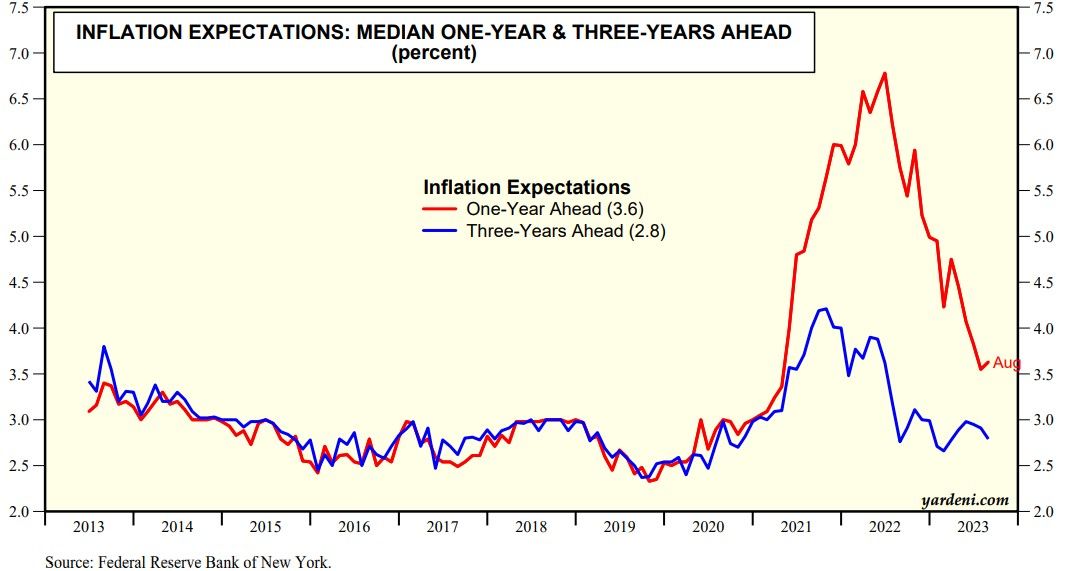 (2) Credit availability. The percentage of survey respondents saying it is harder to get loans, credit cards, and mortgages than a year ago rose to nearly 60%, the highest level in a data series that goes back to June 2013. That's not surprising since the Fed's Senior Loan Officers Opinion Survey has been showing that lending standards have tightened significantly this year. In addition, the growth rates of bank loans to consumers have been falling (chart).
Why isn't this bearish for stocks? The Fed would certainly welcome slowing consumer demand and might conclude that further rate hikes may not be necessary.