The bond market was closed today for Columbus Day. However, the iShares 20+ Year Treasury Bond ETF (TLT) surged 2.34%. This evening, the 10-year US Treasury bond yield dropped from 4.80% on Friday to 4.65%. The S&P 500 was weak in the morning, but rose 0.63% today (chart). It held its 200-day moving average last week (chart). That's impressive given that oil prices surged today after Hamas attacked Israel over the weekend.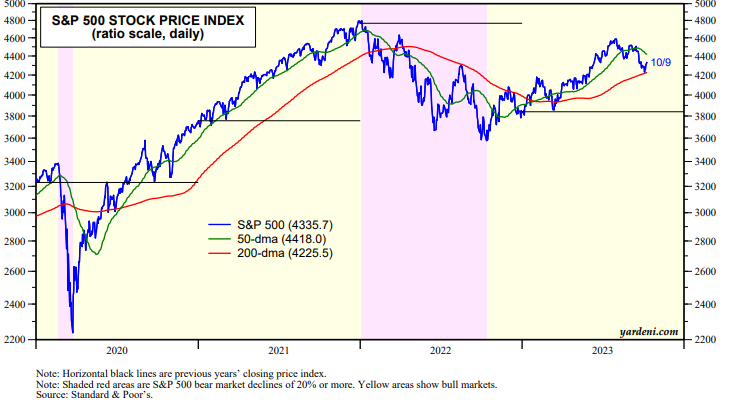 The odds of a November hike in the federal funds rate (FFR) fell today to 12.1% from 27.1% on Friday according to the CME FedWatch Tool, which is based on FFR futures. That happened after two Fed officials ( Fed Vice Chair Philip Jefferson and Dallas Fed president Lorie Logan) indicated that the surge in the bond yield since early August reduces the need to raise the FFR.  So "none-and-done" is looking increasingly likely for rate hikes over the rest of the year.
What about the war in the Middle East? Iran's oil exports, which plunged 1.6 mbd per day under the Trump administration's sanctions, rose 0.6 mbd during the first three years of the Biden administration (chart). It's unlikely, but the Biden administration might reverse course and tighten sanctions again on Iran's oil exports.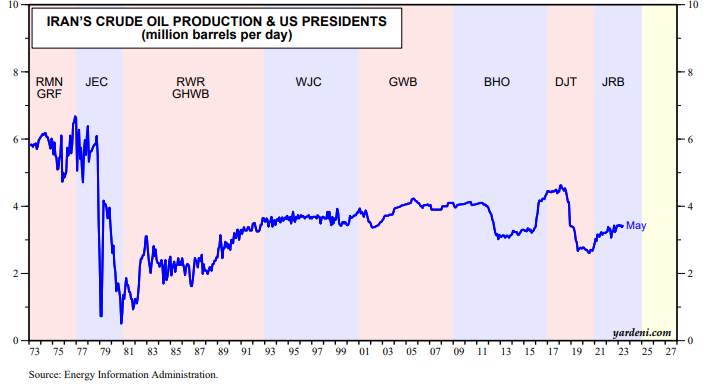 Any further increase in oil prices is likely to cause Saudi Arabia to increase its production and exports to keep the price of oil below $100 a barrel. Oil producers just recently learned that the sharp increase in the price of a barrel of crude oil during Q3-2023 immediately depressed oil demand, especially gasoline usage in the US (chart).